Return of the Man from U.N.C.L.E.
(1983)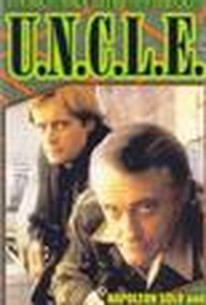 AUDIENCE SCORE
Critic Consensus: No consensus yet.
Movie Info
Solo and Kuryakin come out of retirement after 15 years to battle THRUSH.
News & Interviews for Return of the Man from U.N.C.L.E.
Critic Reviews for Return of the Man from U.N.C.L.E.
There are no critic reviews yet for Return of the Man from U.N.C.L.E.. Keep checking Rotten Tomatoes for updates!
Audience Reviews for Return of the Man from U.N.C.L.E.
A showcase of a once very popular sixties spy show. With the original, though somewhat aged, cast of Vaughn and McCallum. CBS television attempted to revive the popular spy series The Man from U.N.C.L.E. 15 years later in 1983. BEFORE you read anymore of this review, please watch an excellent video clip of the REAL tv series. This was FAR more well done than this reviewed movie done years later: https://www.youtube.com/watch?v=3_NytrnoI_Q [img]http://scifibulletin.files.wordpress.com/2012/03/uncle-01.png[/img] Robert Vaughn, right, trying to persuade David McCallum to come out of retirement Plot: The criminal international organization THRUSH steals the bomb H975 and demands $350,000,000, to be delivered within 72 hours by their former antagonist, Napoleon Solo. My rating of this was regretably so low (but still a fresh) because the film is below even my "average" idea of the "typical" so-so theatrical movie. It actually represents the typical "television" sixties movie. [img]https://encrypted-tbn3.gstatic.com/images?q=tbn:ANd9GcTWpn8xPqK07knpHoR_D5w7w4wTWuFqS44zfeLQFJ6XuqbBSh_b[/img] 1983, Vaughn and McCallum revive their roles SEE the original TV promotion of the movie on CBS here: https://www.youtube.com/watch?v=8ojblllZI3s "Originally telecast April 5, 1983, on CBS, The Return of the Man From U.N.C.L.E. (subtitled "The 15 Years Later Affair") failed to deliver sufficient ratings to warrant the planned revival of the series." ~ Hal Erickson, Rovi SEE the 4th season introduction to the REAL tv series here: https://www.youtube.com/watch?v=FuTWxTl4Atw [img]http://upload.wikimedia.org/wikipedia/en/thumb/e/e9/ManFromUNCLEbook.jpg/220px-ManFromUNCLEbook.jpg[/img] The ORIGINAL tv series look in the later 1960's Personally, I was gratified to see good reception to the film by the RT community. On the other hand, on first viewing this I was totally embarressed as it really did not capture the original television series. Bringing Vaughn and McCallum out of retirement from U.N.C.L.E. was as awkward as it could be for me. [img]http://www.dvdtalk.com/reviews/images/reviews/190/1238706379_1.jpg[/img] After the initial rather corny car chase scenes and the brush with James Bond no less, the film seemed to settle down to its television historical roots. Let us face it, The Man from U.N.C.L.E. in the 1960's was first in black and white then came out in color. The show then did a television version of the then very popular Bond series which only appeared in the movies. [img]http://www.collider.com/wp-content/uploads/man_from_uncle_tv_show_image_01.jpg[/img] The original television series logo SEE the early car chase scene here and the appearance of one James Bond chareacter here: https://www.youtube.com/watch?v=1WIXI4AfbwA [img] http://hmssweblog.files.wordpress.com/2013/02/lazuncle.png[/img] Ex-Bond character George Lazenby makes a cameo I was let down initially and actually embarressed by the corny beginnings, but eventually came to realize that this movie is just about as good a look at the original tv series as could be made. Which is to say, the TV show was no series of any epic proportions anyway. [img]http://upload.wikimedia.org/wikipedia/commons/1/1e/Kurt_Russell_Robert_Vaughn_Man_From_UNCLE_1964.JPG[/img] Kurt Russell as a child actor with Robert Vaughn in tv Man from U.N.C.L.E. If you check out what few clips I could find of the movie, you might see what I am trying to write even though you never saw one episode of the original and beloved The Man from U.N.C.L.E. REVIEWS by the unpaid: 90% This is a fun, funny addition to UNCLE canon and had the ratings to be made into a new series. Unfortunately the leads, McCallum and Vaughn, didn't w... 80% Okay not as good as the series, but retro cool fun all the way. Even 007 turns up, sort of...... NOTES: 1 The Return of the Man from U.N.C.L.E.: The Fifteen-Years-Later Affair is a made-for-television film based on the series The Man from U.N.C.L.E., starring Robert Vaughn and David McCallum reprising the roles they had originated on that program. 2 Several of the crew from the series also worked on the movie, which was produced by Viacom rather than Metro-Goldwyn-Mayer. Leo G. Carroll had died long before the movie began production... 3 If you care to know, SEE this video clip of the origins of the original TV series gun used in the TV series: https://www.youtube.com/watch?v=55Hu5-CEISI [img]http://i.dailymail.co.uk/i/pix/2012/01/03/article-2081514-0F4C4B3B00000578-824_468x562.jpg[/img] Original TV cast Major cast Robert Vaughn as Napoleon Solo David McCallum as Illya Kuryakin Patrick Macnee as Sir John Raleigh Gayle Hunnicutt as Andrea Markovich Geoffrey Lewis as Janus Anthony Zerbe as Justin Sepheran George Lazenby as "J.B." Keynan Wynn (cameo) [img]http://3.bp.blogspot.com/-UGiy-Q-hkLs/TtYi1d7LGRI/AAAAAAAAD3Y/-Cu9SsMFUmY/s400/the-man-from-uncle.jpg[/img] Directed by Ray Austin Produced by Nigel Watts Written by Michael Sloan Music by Gerald Fried (score) Jerry Goldsmith (theme) Cinematography Fred J. Koenekamp Editing by George Jay Nicholson Studio Michael Sloan Productions Viacom Productions Distributed by CBS Television Distribution Release dates April 5, 1983 Running time 96 minutes Country United States Language English [img]http://i223.photobucket.com/albums/dd98/mixpix8jo/RotMFU.jpg[/img]
monsieur rick
Return of the Man from U.N.C.L.E. Quotes
There are no approved quotes yet for this movie.
Discussion Forum
Discuss Return of the Man from U.N.C.L.E. on our Movie forum!