Return of the Street Fighter
(1975)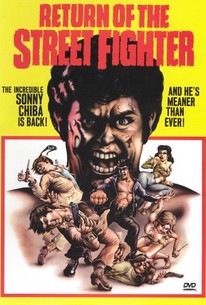 AUDIENCE SCORE
Critic Consensus: No consensus yet.
Movie Info
After attracting notoriety at movie theaters around the world (along with plenty of profits) with the brutal kung-fu hit The Street Fighter, the character of Terry Tsugury (Chiba) was quickly revived for Return of the Street Fighter. This time, Tsugury is hired by Japanese mobster Otaguru (Tanaka) to kill a pair of captured employees so they cannot inform on his activities (he has teamed with the American mafia under the guise of building a martial arts center). When Otaguru orders Tsugury to kill his old friend Masoaka (Suzuki), Tsugury refuses and is forced to go on the run with. To make matters worse, Junjo (Ishibashi), Tsugury's old nemesis, has reappeared and set his sights on revenge. Tsugury takes a vicious beating from Junjo, but recovers in time to punch, kick, and gouge his way through everyone who has crossed him during the finale. Although critics considered it to be little more than a hyper-violent cartoon, Return of the Street Fighter found favor with action fans who loved the first installment and its success inspired another sequel, The Streetfighter's Last Revenge.
Rating:
R
Genre:
, ,
Directed By:
Written By:
In Theaters:
On DVD:
Runtime:
Critic Reviews for Return of the Street Fighter
All Critics (3) | Fresh (0) | Rotten (3)


Audience Reviews for Return of the Street Fighter
½
76% "Stick it right in your ass. You can't order me around even if you have money."-Takuma "Terry" Tsurugi (Sonny Chiba) Same formula as THE STREET FIGHTER only less bone crunching violence and less inventive deaths. I also miss ol' Ratnose. The eyeball/fist-to-the-back-of-the-neck scene was awesome.
FilmGrinder Stone
When the titular street fighter (Sonny Chiba) refuses to assassinate an innocent man, the mafia unwisely decides to put a hit on him. Chiba is much closer to a good guy in this one (he doesn't sell anyone into sex slavery or rip anyone's testicles off their body); the fight scenes are just as elaborate but not as gory and have a deliberate comic element. These changes may make you like less than the original; I actually liked it more.
Return of the Street Fighter avoids the trap of many sequels, by actually simplifying procedures. The plot is much easier to follow and there are less characters to concern yourself with. Return of the Street Fighter is completely filled with action sequences, the plot is laid out early on to give us 80 minutes of ferocious action. It's all really well shot and Chiba brings his inescapable talents to the role. There are some stranger aspects to the film, such as outrageous examples of super strength and agility. Chiba can now hit people so hard that their eyes pop out. He even stabs people with guns. It's more tongue in cheek than the original. The twists are really unexpected, but sometimes reintroduce characters for no reason, other than yet another fight scene. The film also uses two fight scenes from the original as flashbacks. However, they are the ENTIRE scenes. It's not as though this film was lacking action scenes.
Luke Baldock
Super Reviewer
Return of the Street Fighter Quotes
There are no approved quotes yet for this movie.