Return to Cabin by the Lake
(2001)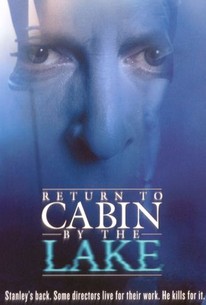 AUDIENCE SCORE
Critic Consensus: No consensus yet.
Return to Cabin by the Lake Videos
Return to Cabin by the Lake Photos
Movie Info
Most screenwriters fight to protect their creative vision, but one man goes a good bit farther than most in this sequel to the made-for-TV horror flick Cabin by the Lake. Murderous scriptwriter Stanley Caldwell (Judd Nelson) is missing and thought to be dead, but the strange stories of his grisly crimes have made the project he was writing at the time of his death a hot property, and director Mike Helton (Brian Krause) has hired writer Allison Gaddis (Dahlia Salem) to polish Caldwell's rough draft as he prepares to bring Stanley's final work to the big screen. But it turns out Stanley isn't dead after all -- he managed to escape and has gone into hiding, but the news that his work is being tampered with brings him back to the scene of his crimes. Posing as J.C. Reddick, a relative of the producer, Caldwell gets hired as an assistant director on the film, and claiming to have known the late Caldwell, he sets out to reshape the movie so that it reflects his own twisted ideals. Produced for the USA cable network, Return to Cabin by the Lake was first aired on December 15, 2001.
Rating:
R (Some Violence, a Scene of Sexuality, and Brief Drug Use)
Genre:
, , , ,
Directed By:
Written By:
In Theaters:
On DVD:
Runtime:
Studio:
USA Home Entertainment
Cast
Critic Reviews for Return to Cabin by the Lake
All Critics (0) | Fresh (0) | Rotten (0)
Audience Reviews for Return to Cabin by the Lake
I came across this just scanning through the channels. surprisingly, I really liked it. No, it's not realistic. I don't think a movie needs to be. The point of a movie is to get away from the real world and be entertained.
Susan Harrison
oh man. i saw the first one back in the day, and for a made for tv movie, it was alright. but this, this was just so so bad. there aren't even words to describe how bad it was. my soul wept for brian krause's acting.
Tyler Durden
Sequel to the previous "Cabin by the Lake" the movie is about the making of a movie of the psychotic but gifted mystery writer Stanley Caldwell,Judd Nelson, last an incomplete work before he disappeared under the waves of Lake Summit. It's no surprise at all that the murderous Cardwell survived when we see him in a number of very unconvincing disguises.Cardwell is seen early in the film killing a number of people who have to do with the making of the movie based on his unfinished masterpiece. Sequels hardly ever live up to the original. This definitely proves true in this case. However, if you're a big fan of the original than definitely give this a watch. Although the camera work is lacking, Brian Krause's character is annoying, and the plot is clique, it's much more funnier than the first and that is what I find entertaining about it. Don't see this movie expecting the same performance as in the first film. Quite frankly it's a bit different. Rather than sitting in his cabin writing screenplays, Stanley is off in Hollywood trying to direct his dream project, Cabin by the Lake. This movie has a much different feel but it's still great to see Stanley back in action.
Danielle S
Discussion Forum
Discuss Return to Cabin by the Lake on our Movie forum!
News & Features