Return to Mayberry
(1986)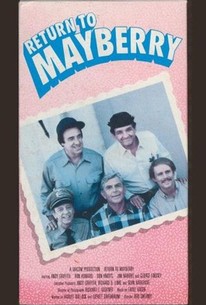 AUDIENCE SCORE
Critic Consensus: No consensus yet.
Movie Info
Inspired by the success of previous TV sitcom "reunion" films, Return to Mayberry debuted on April 13, 1986. Eleven of the original cast members of the classic Andy Griffith Show were reunited in this marvelous blast from the past. The plot finds former sheriff Andy Taylor (Griffith, of course), returning to Mayberry, North Carolina to visit his grown son Opie (Ron Howard, taking a break from his busy directorial career), who is now an expectant father. Andy's onetime deputy Barney Fife (Don Knotts) is running for the sheriff's post, so Andy decides to stick around to help out. Barney thinks he's found an excellent publicity ploy when he discovers what seems to be a bigfoot-style monster roaming around the Carolina hills. Actually, he's the victim of a cruel hoax, compelling Andy once more to come to Barn's rescue. Also in the cast is George Lindsay as Goober, Jim Nabors as Gomer, Aneta Corsaut as Helen, Betty Lynn as Thelma Lou, and Howard Morris as Ernest T. Bass. Conspicuous by her absence was Frances "Aunt Bee" Bavier, who was too ill to make a comeback. The highest-rated TV movie of 1986, Return to Mayberry might have resulted in a series, but Andy Griffith decided to switch professional gears and star as an attorney in Matlock.
Rating:
NR
Genre:
,
Directed By:
In Theaters:
On DVD:
Runtime:
Studio:
Strathmore Productions
Critic Reviews for Return to Mayberry
There are no critic reviews yet for Return to Mayberry. Keep checking Rotten Tomatoes for updates!
Audience Reviews for Return to Mayberry
I would have to say , pretty good movie all in all . The characters are all the same . The TV Series was much better than the movie . But overall , a 3-4 star movie .
Adam Johns
Sadly, and sincerely sadly... a poor film. For fans of television's Andy Griffith Show of the sixties, this is still heartwarming to see most of the actors in Mayberry. The plot is often times outright stupid after the first 20 minutes of happy reuniting, to become a real let down. Determine for yourself, but I thought the movie was just a stretched out television episode of The Andy Griffith Show. [img]http://www.cmt.com/sitewide/assets/img/news/2012/07_12/andy_griffith/andy_griffith_143993522-x600.jpg[/img] SEE all of this at: http://www.youtube.com/watch?v=ybuivLU536c The cast is pretty much all here. Aunt B's voice is dubbed in and terribly unconvincingly as Griffity visits her gravesite. Then he bumps into Mary Lou by coincidence and her still longing for Barney? How lame. Andy is still playing the role of matchmaker now 20 years later. It's all too painfully obvious as we have seen it all done before. A real trip back in time but a queer feeling too. But for the quality of the movie there is a real issue. It should have stayed black and white. It should have been a half hour. There is something about television and movie production that will never mix. I could never really understand why, but in this film's case.... leave it alone. Let television remake beloved Mayberry, not cinemascope movies for crying out loud! While wanting to cram every character and memory of the town of Mayberry into a few hours seems contrived.... it really comes off fake. The actors do their best to relive the past.... but they just can't make up for something lacking in this rendering of a trip back home. Andy meets his son Opie and is astounded to see him with a moustache. What father stays out of contact with his son that long? (Andy has been in Cleveland as a postal inspector!) Ever go back to your childhood home and while the houses and streets are the same, its still like a twilight zone experience. Face it, you grew up and outlived that experience. Try as you might, its just not the same. Its in our heart and memory but its not a place we want to identify with ever again. It's pretty sad. So now we come to Mayberry 1986, 20 years after the popular sitcom of The Andy Griffith Show. Later, Mayberry RFD. Now, almost 60 years later this film will appear shallow and stupid and awful. Just read some of the comments. But that is to be expected. For fans of Andy, Don Knotts, Opie (now having a child in the film) and the rest who lived to recreate the town of Mayberry... this could be a real tear jerker and not about the film but for ourselves now all grown up. We EXPECT a better recap of the very popular and long running tv series... instead we get this poorly directed and shot film. REVIEWS: 100% I love this movie. That's all I can say. I just love it! :- 60% This was a fun little reunion. It jumps the shark, a little bit with the plot. Barney Fife (who is running for Sheriff) is convinced that there is a ... Professional reception: 1 Although Return to Mayberry was a ratings success, its critical reception was more ambiguous. A review in The New York Times opined that its "slow pace, extremely modest level of humor and straightforward and predictable plotting make Return to Mayberry a less appealing reunion for the audience than it may have been for its actors." [img]http://t1.gstatic.com/images?q=tbn:ANd9GcR1pck8A91XW-75e3P50YyWcR0DNcvXJz0OApCuvfObFKXOnzUM2Q[/img] Andy's old flame has dinner again with him although she is not the same [img]http://t0.gstatic.com/images?q=tbn:ANd9GcSUXSCdgkvxGaszLLzOBA7fKUL5r9BMEVaSbs0hWDCK57XMfdVo[/img] Her in the sixties Directed by Bob Sweeney Produced by Robin S. Clark Written by Harvey Bullock Everett Greenbaum Andy Griffith (uncredited) Music by Earle Hagen Editing by David Solomon Country United States Language English Original channel NBC Release date April 13, 1986 Running time 95 mins. Preceded by The Andy Griffith Show Mayberry R.F.D [img]http://t1.gstatic.com/images?q=tbn:ANd9GcTtZqFYDIbYX3oseySenxiV1hKFymBrysAUQ_w83cK08AcW1k0O2g[/img] Andy and son Opie meet after years, apparently NOTES: 1 Return to Mayberry is an American television reunion movie for the 1960s American sitcoms The Andy Griffith Show and, to an extent, Mayberry R.F.D. as well. The movie premiered on April 13, 1986, on NBC, and was the highest-rated telemovie of 1986. Wikipedia 2 Sixteen of the original cast members reunited for the movie and its success could have led to additional Mayberry programs, but Griffith was committed to Matlock for the 1986-87 season. Andy Griffith as Andy Taylor Ron Howard as Opie Taylor Don Knotts as Barney Fife Howard Morris as Ernest T. Bass Jim Nabors as Gomer Pyle George Lindsey as Goober Pyle Aneta Corsaut as Helen Crump Taylor Jack Dodson as Howard Sprague Betty Lynn as Thelma Lou Maggie Peterson as Charlene Darling Denver Pyle as Briscoe Darling Hal Smith as Otis Campbell Rodney Dillard as Rodney Darling Doug Dillard as Doug Darling Mitch Jayne as Mitch Darling [img]http://t2.gstatic.com/images?q=tbn:ANd9GcTd0NrmTAJaYSxuezrrns4YkvZYq0tEuALXeiXGQPWAwCEQWeokfw[/img]
monsieur rick
"Return to Mayberry" is the 1986 Reunion special for the classic sitcom "The Andy Griffith Show". In it Andy has returned home to Mayberry after a long absence in order to be there for the birth of his grandson, Opie's firstborn! He and Helen have decided to move back for good, and he has even put in the paperwork to run for Sheriff again, though he decides against when he finds his former deputy and good friend Barney Fife is running...but Barney may lose the election to his main opponent due to his erratic behavior and belief that there is a monster in the lake (which is actually a really lame publicity stunt by a young business man hoping to drum up interest in Mayberry for his new hotel). Overall the plot is rather lame...but that isn't what is fun about "Return to Mayberry", what is fun about this TV movie is that you get to see the old gang from the classic show reunited and looking old. Despite the material not being up to the standards of the black and white seasons, Don Knotts makes the most of his performance, making everyone remember why they loved Barney, and why they missed him during the color episodes. I enjoy this for it's nostalgia factor, being that it does nothing but bring back fun characters (and a lot of them, from Ernest T. Bass and the Darlings to Howard Sprague and the Pyles). It's kind weak if your looking for plot, but if you just love "The Andy Griffith Show", then you'll enjoy this reunion special.
Ken Scheck
Return to Mayberry Quotes
There are no approved quotes yet for this movie.