Revenge
(2018)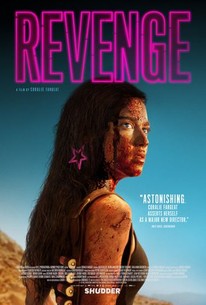 TOMATOMETER
AUDIENCE SCORE
Critic Consensus: Revenge slices and dices genre tropes, working within an exploitation framework while adding a timely -- yet never less than viscerally thrilling -- feminist spin.
Movie Info
Jen (fearlessly embodied by Matilda Lutz, Rings) is enjoying a romantic getaway with her wealthy boyfriend which is suddenly disrupted when his sleazy friends arrive for an unannounced hunting trip. Tension mounts in the house until the situation abruptly--and viciously--intensifies, culminating in a shocking act that leaves Jen left for dead. Unfortunately for her assailants, Jen survives and reemerges with a relentless, wrathful intent: revenge. A white-knuckle tale of transgression and transformation, REVENGE gloriously blurs the lines of vengeance and survival while simultaneously delivering a ferocious dissection of gender and genre.
News & Interviews for Revenge
Critic Reviews for Revenge
Audience Reviews for Revenge
½
Independent cinema can easily go under the radar to those who aren't all that invested in the film world, but also due to the fact that the film itself may be slightly too gruesome or weird. Personally, I would use both of those two words to describe Revenge to someone who is a mainstream audience member, who really can't get into anything abstract. From being a political statement to just plain crazy, this is a film that holds nothing back in terms of its message and the overall goal of being a satisfying revenge-fuelled flick. Although saying this film isn't for everyone would be the understatement of the year, here's why I'd recommend Revenge to hardcore film fanatics, or those who are literally up for anything when it comes to watching movies. Revenge follows Jen after she has been raped and left for dead in the middle of the desert. The married man who she had chosen to sleep with runs off with his two accomplices after the event. Right off the bat, there will be some unbelievable scenarios that you have to let slide, due to how gruesome her fall was. Her death sequence is horribly graphic and would've killed anyone else in an instant, but she somehow survives and finds herself hunting down these men. As I mentioned, this can be quite the unrealistic film at times, but the plot of the film itself feels very real. Director Coralie Fargeat clearly wanted to make a statement that relates to today's day and age and wasn't willing to stop short of anything, but pure insanity. From visuals that left a lasting impact in my mind, to being genuinely shocked at how realistic everything was seeming throughout my entire viewing experience, I found myself almost wanting to throw up at times. No, that's not a detriment to the film itself, but rather a large compliment. It's not very often that I can feel this traumatized after watching a movie, while also feeling incredibly satisfied at the same time. Matilda Lutz stars as Jen, and her performance here is out of this world. She completely disappears into this role, going from a very obviously stereotypical woman who sleeps with rich men, to the absolutely ruthless revenge-fuelled person who will stop at nothing to bring these men down. I was incredibly immersed in her mindset and found myself helping her along in my mind as the film progressed. The way long takes and editing styles are utilized in order to further the story in either an interesting or even twisted way was breathtaking to me. Abstract imagery or takes that would bore the average moviegoer are usually left out of mainstream entertainment in order to please everyone, but movies like this deserve to be seen by more people. Personally, even though it may be very hard to watch at times, this is easily one of my favorite films of the year so far. In the end, Revenge blends the very obvious tropes that a revenge flick presents, with a nice mixture of abstract, violent, and downright unnerving. From visuals that will make the squeamish tune out immediately to the overall look of the film being off-putting to those who wish to watch a generic thriller, all I can say is that if you know this type of movie isn't for you, then please stay far away from it. If you're looking for a nice spin on the genre, with terrific performances and one hell of a third act, then strap in, because I can't recommend this one enough. Revenge is a crazy thriller that is as relentless, entertaining, and sometimes impossible to sit through but wrapped up in a perfect little bow.
Revenge Quotes
There are no approved quotes yet for this movie.