Revenge of the Nerds II: Nerds in Paradise
(1987)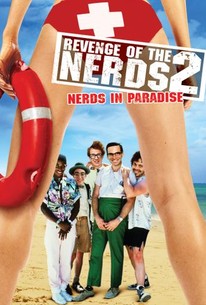 TOMATOMETER
AUDIENCE SCORE
Critic Consensus: It reunites most of the original cast and rounds them up for a trip to Fort Lauderdale for spring break, but Revenge of the Nerds II: Nerds in Paradise forgets to pack enough jokes or compelling characters to make it through its 89-minute running time.
Revenge of the Nerds II: Nerds in Paradise Photos
Movie Info
In this follow-up to Revenge of the Nerds the nerdy frat boys from Lambda Lambda Lambda go to Ft. Lauderdale to a national frat conference where they again must outwit the thick-tongued jock frat-boys who are also at the conference. This they can do. ~ Rovi
People Who Like this movie also like
News & Interviews for Revenge of the Nerds II: Nerds in Paradise
Critic Reviews for Revenge of the Nerds II: Nerds in Paradise
Audience Reviews for Revenge of the Nerds II: Nerds in Paradise
Follow up to Revenge of the nerds is a pretty good sequel that is a silly good time. I found this entry to be underrated, and I thought it was entertaining and funny for what it was. As far as sequels go, this is pretty good, even if it's not as good as the original. The cast of the original return, and they each bring effective performances that make this a worthwhile entry. The film at times does in some areas, but it delivers some memorable laughs and a good story. This would be the final good entry in the Revenge of the Nerds series. I really enjoyed the film, and though not as great as the first, it still is worth seeing. The film has plenty of good moments, and genre fans will surely enjoy this second feature. This is worth seeing if you enjoyed the first, but avoid the next two entries. I personally feel that the filmmakers should have stopped with this entry as it was a good conclusion to the first film. This had enough good on-screen gags to make it worth seeing and though far from perfect, this sequel is still one of the better comedy sequels that I have seen. Don't expect a film like the first one, but expect something familiar with added material to give it some form of originality. In this sense, Revenge of the Nerds will surely be a pleasant treat for fans of the origin al and it is a silly, yet pretty funny movie that is just mindless fun from start to finish.
best part of the movie? who farted t-shirt. thats sad.
Coxxie Mild Sauce
Super Reviewer
½
Doesn't compare to the first one, but still funny.
Revenge of the Nerds II: Nerds in Paradise Quotes