Plane Fear
(1994)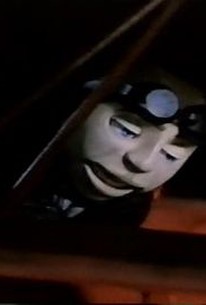 AUDIENCE SCORE
Critic Consensus: No consensus yet.
Movie Info
Low-budget fantasy about a family stalked by a doll possessed by the spirit of the Red Baron. Mickey Rooney, Tobey Maguire, Laraine Newman. A.k.a. "Plane Fear." Directed by Robert Gordon.
Rating:
PG-13
Genre:
, , ,
Directed By:
Written By:
On DVD:
Runtime:
Studio:
New Horizons
Audience Reviews for Plane Fear
Revenge of the Red Baron has all of the ingredients for being B-grade cheesy greatness, however, it falls flatter (and harder) than an early 90's Full Moon kid-orientated film. Don't be fooled by the Tobey Maguire 8-10 year old child look-alike on the box cover, Maguire is actually in his mid-teens and a juvenile delinquent to boot, whose mother (former Saturday Night Live member Laraine Newman) hauls his butt up to his father's (Cliff De Young) home. Also occupying the home is crotchey and loony grandpa (played hilariously by Mickey Rooney) who somehow defied time and age to be a WWI ace fighter pilot who shot down the infamous Red Baron. As luck would have it, the Red Baron comes back from the dead to inhabit a Red Baron toy and plane in order to wreck havoc on Maguire and his entire family. Throughout the entire movie, you will be asking yourself if you are really watching what you think you are watching. The level of greatness found within this deliciously corny and absurd script is entirely lost in translation in the film product. Though the evil Red Baron toy manages to scrape by with terribly corny puns and crass remarks, the rest of the human cast is playing it serious, as though this film were going to be something great. Behold the marvels of this film's continuity as well where Maguire goes back and forth from being wet and dry after getting out of a pool, where an NYC cab works in ritzy California, and where someone like Young dies quickly by electrocution, whereas Rooney manages to survive it. Powerful stuff. The film was "written" by (maybe as some elaborate prank on all of us) by Michael McDonald (MADtv) who wrote and acted in a barrage of bad B-movies well before he became a regular on MADtv and graced us with his infamous Stuart character. This "movie" was also produced by Roger Corman. Some try to say this is a direct sequel to Corman's film Von Richtofen and Brown. Trust me...it's not.
Jason Duron
This MOVIE JUST PLAIN SUCKS!!!!!!! A HORRIBLE STORY!!! The dumbest dialouge.... I can go on and on.... I like Mickey Rooney and Tobey Mcguire in other movies but this movie they just..... Hmm how do I say this? Suck! No offense to Mickey or Tobey! The whole story is so farfetched! Plus, they say it's a horror movie! YEAH RIGHT! ZERO STARS!!!!!!!!! I can't even watch this movie. 20 minutes in, I said "FUGED ABOUT IT!!!!" I can't believe I still watched this movie! WOW!!! This movie sucks!
Joe Lalumia
Plane Fear Quotes
There are no approved quotes yet for this movie.