Rhinoceros
(1974)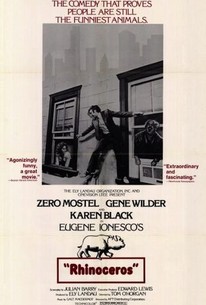 AUDIENCE SCORE
Critic Consensus: No consensus yet.
Movie Info
Produced by the American Film Theater and based upon an absurdist play by Eugene Ionesco, this film tells the farcical tale of a group of people who must reassess their pasts and futures after they begin turning into rhinoceroses. Only one of their peers, a mild-mannered clerk, remains the same.
Rating:
PG
Genre:
, ,
Directed By:
Written By:
In Theaters:
On DVD:
Runtime:
Studio:
American Film Theatre
Critic Reviews for Rhinoceros
There are no critic reviews yet for Rhinoceros. Keep checking Rotten Tomatoes for updates!
Audience Reviews for Rhinoceros
½
Based on a play by Eugene Lonesco, this film is pretty odd if you know nothing of the material its based on. I don't know the play a tall so I did find the plot strange indeed and I can see why it was a failure upon release. This is a shame of course as all the sequences with Wilder and Mostel are pure epic comic genius!. Their facial expressions and body language is fantastic and show two men of comedy, one at his peak and one reaching his peak. I admit the whole film is pretty dull and uninteresting ACCEPT for the first 35min of the film. I realise that contradicts what I just said but its true, most of the film is rather bizarre accept for the long start up sequence which introduces the main pair. This start is sheer brilliance with Mostel on epic form and nothing less than a riot with his stuck up, vain, schmuck of a character who beats down on Wilder's timid, shy and weak 'Stanley' character. The best thing is they are suppose to be best friends but the constant belittling of Stanley (Wilder) by his so called best friend John (Mostel) is so damn amusing. Of course 'John' only means the best for 'Stanley' but at the same time he clearly enjoys his superior dominance over his weak frightened friend and revels in the fact he shines when standing side by side with 'Stanley'. The only other sequence in the film that's any worth is the second big sequence where Mostel transforms into a Rhinoceros...yes that's right, but you don't see the rhino of course, this is an old film. No special effects folks this is merely a very simple film based on a play and involves a lot of improvisation basically, that and a lot of imagination from you the viewer. If you like Wilder then you will LOVE this, on the same level as 'The Producers' but obviously forgotten. This also reminds you how amazing Mostel was and how he could of made more brilliant films with Wilder, Brooks and maybe even Pryor...but alas.
Phil Hubbs
Super Reviewer
½
Mildly amusing tale with Gene Wilder and Zero Mostel cast as friends in a world full of chaotic events. Based on Eugene Lonesco's play, a surreal example of absurd theatre. It achieves that absurdness alright, to the point of being silly. Had Twilight Zone qualities as the movie progresses. [img]http://dada.warped.com/movies/09021rhino.jpg[/img] SEE the official trailer here for a sample: http://www.youtube.com/watch?v=tYgR1Pb-lk4 "The residents of a large town are inexplicably turning into rhinoceroses. Stanley (Gene Wilder), a mild-mannered office clerk, watches the bizarre transformations from a bemused distance. But soon the strange occurrences invade his personal space, as his neighbor and best friend John (Zero Mostel) and his girlfriend Daisy (Karen Black) become part of the human-into-rhinoceros metamorphosis that is taking place. Eventually, Stanley realizes that he may be the only human left amidst the new rhinoceros majority."--wikipedia [img]http://www.film4.com/media/images/Channel4/film/R/rhinoceros_xl_01--film-A.jpg[/img] Karen Black and Gene Wilder For Gene Wilder fans, they won't find him acting any different than any other movie he ever made. Zero Mostel, who starred in the 1961 Broadway production of the play, recreated his role as the man who turns into a Rhinoceros. The film was produced and released as part of the American Film Theatre, which adapted theatrical works for a subscription-driven cinema series. [img]http://media.tumblr.com/tumblr_m4igbkfKU71r38d5m.jpg[/img] Wilder shown trying to remain drunk to remain sane. REVIEWS by the wee folk: 100% Eugene Ionesco's play come to life. 50% This is the most rediculous premise for a film ever... people begin to transform into rhinoceros... and then they do it! NOTES: 1 Mostel created a minor brouhaha during the production when he refused to smash any props during the rehearsal of his transformation scene - the actor claimed he had an aversion to destroying property. 2 Rhinoceros was poorly received when it had its theatrical release as part of the American Film Theatre series. Jay Cocks, reviewing the film for Time, faulted the film for its "upbeat, frantic vulgarization" of the Ionesco text, arguing that O'Horgan "removed not only the politics but the resonance as well. What remains is a squeaky sermon on the virtues of nonconformity." 3 Vincent Canby, writing in The New York Times, dismissed the film as "an unreliable mouthpiece in an unreliable metaphor so grossly overdirected by Tom O'Horgan that you might get the idea Mr. O'Horgan thought he was making a movie for an audience made up entirely of rhinoceroses instead of people." Directed by Tom O'Horgan Produced by Ely Landau Written by Julian Barry Eugène Ionesco (play) Starring Gene Wilder Zero Mostel Karen Black Music by Galt MacDermot Cinematography Jim Crabe Editing by Bud Smith Distributed by American Film Theatre Release dates January 21, 1974 (USA) Running time 101 minutes [img]http://upload.wikimedia.org/wikipedia/en/thumb/9/93/Poster_of_Rhinoceros_%28film%29.jpg/220px-Poster_of_Rhinoceros_%28film%29.jpg[/img]
monsieur rick
A very 70s theatre feel to this picture, it's somewhat experimental and thought provoking, but kinda weird at the same time. It has a lot of funny moments too, I liked it, it's different.
Discussion Forum
Discuss Rhinoceros on our Movie forum!