Rhyme & Reason
(1997)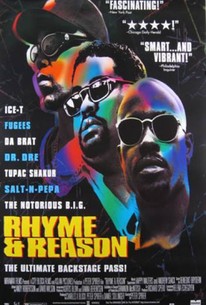 Movie Info
Rhyme and Reason features some of the biggest stars in rap music discussing the history and impact of hip hop and rap music. Director Peter Spirer takes a sociological approach to this primarily African American art form, focusing more on interviews and historical facts than on presenting examples of the diverse musical genre itself. Those offering insights include Ice-T, Chuck-D, KRS-ONE, Notorious B.I.G., and Wu Tang Clan. Female rappers Salt and Pepa, Da Brat and the Fugees' Lauren Hill offer their thoughts on rap music and misogyny. Also examined is the controversy over the violent lyrics found in gangsta rap. In the film's latter stages, the filmmakers attend rapper Tupac Shakur's funeral.
Critic Reviews for Rhyme & Reason
There are no critic reviews yet for Rhyme & Reason. Keep checking Rotten Tomatoes for updates!
Audience Reviews for Rhyme & Reason
I wonder how I would have felt about this film if I saw it back in the '90's. RHYME & REASON (Peter Spirer, 1997) is a documentary about Hip Hop. Sounds like THE SHOW (Brian Robbins, 1995)? Yeah, I thought so too, which is why I didn't see it when it came out. And paradoxically, that works out for the best, because my perspective on Hip Hop is way different now, and a lot more objective. I will apologize in advance for how this review will probably be more of a commentary on Hip Hop in general than review of this film, but then, that's what the movie purports itself to be (although far less objective). So maybe this all works out in the end. RHYME & REASON is about Hip Hop, and as such, has appearances by many of the big artists from the late nineties, notably Ice-T, MC Eiht, Raekwon, and Too Short, who retired just as this movie was coming out (though if memory serves, he still made one more album). The movie makes a big deal of that, saying that Hip Hop is now old and successful enough that somebody could make his money in rap and retire. But as it also illustrates, for some rappers like Raekwon, that doesn't mean much - many of them still want to run around in the streets, "keepin' it real", as it were. I'm sorry, that still sounds ignorant to me, even more so now. I guess Hip Hop matured without achieving maturity. Nonetheless, the movie makes an interesting point. Back in '96 or so, Norton, the company that puts out the textbooks for most major universities, had released the brand new Norton Anthology of African American Literature, complete with a quote from Dr. Cornel West on the cover and everything. The Professor of my African American lit class, however, felt that she was too old to adequately teach the section on Hip Hop, and decided to let one of her Teaching Assistants do the lecture that day. And while I did learn something from that lecture (the idea that the West Coast focused heavily on "Funk and Soul artists", I was irritated because the TA left a lot of things out, and I knew a lot more than she did in many areas, because I was /a part/ of the culture she was trying to teach about. But I wasn't surprised, because back then, Hip Hop was just too new a cultural phenomenon to cover comprehensively. Nobody had or could retire from it by that point, so Too Short doing so in '97 was kind of a big deal. The thing is, that was also a point where Hip Hop was really healthy, both economically and creatively. I didn't appreciate it then, and even resisted it (I observed back then that at least in the late '80's, everybody was more or less equal, which couldn't be said about the late '90's), but in retrospect, that was Hip Hop's heyday, and is now generally accepted as such. RHYME & REASON thus has a very positive and optimistic view on Hip Hop, seeing it as the music of the people, an art form created by and for African Americans, blah blah blah blah blah. How would the filmmakers have treated it now? Admittedly, these particular filmmakers would probably have been celebratory either way. But in modern Hip Hop, records are not selling (or existing, for that matter). Gold is the new benchmark of success; back then it was platinum, and even multi-platinum. Practically unheard of now. Worse, the secret to Hip Hop success these days is to come up with a gimmick, preferably a dance of some kind. West Coast rap is practically irrelevant, and Southern rap, in which "yeeeaaah!" is a popular lyric, rules the day. It's a lot more vulgar, a lot less intelligible, and derivative as all get out. 2Pac and Biggie, who appear in this film, are dead. Puff Daddy is a joke. And RHYME & REASON's central idea, that Hip Hop has and will stand the test of time is debatable, if you ask me. I don't think rapping itself will ever go anywhere, but now white people rap, and pop stars put rappers in all of their songs. I don't know how much a designated Hip Hop culture will exist as a separate entity, without being absorbed into the mainstream. I know it won't happen without innovation - everybody is more or less sick of Hip Hop in its current form. RHYME & REASON, then, overreaches. A LOT. I would never have known that back then, and back then would probably have just restricted my review to "it doesn't break any new ground that THE SHOW did not." More than that, though, it doesn't cover any new ground AND is very sycophantic toward its subject matter, as well as pretty much wrong about everything, as it turns out. (Okay, that's overly harsh for dramatic effect, I know.) It's not really visually interesting, and while stories like MC Eiht's are compelling, there's nothing particularly special about them. PBS's "Frontline" could have made this, and would probably have done a better job. RHYME & REASON isn't terrible, but isn't particularly good, either, and as history has shown us, is more or less irrelevant too. See THE SHOW if you're interested in this, or better still, BEATS, RHYMES, AND LIFE: THE TRAVELS OF A TRIBE CALLED QUEST (Michael Rappaport, 2011). This movie is just too little, too late. C.
Aslum Khan
Rhyme & Reason Quotes
There are no approved quotes yet for this movie.
Discussion Forum
Discuss Rhyme & Reason on our Movie forum!