The Rich Man's Wife
(1996)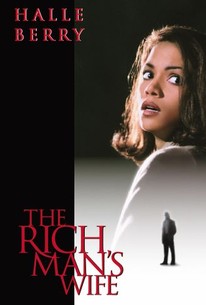 The Rich Man's Wife Photos
Movie Info
In this thriller, Josie Potenza is unhappily married to the older, wealthy Tony. In an attempt to save their marriage, she suggests they take a three-week vacation in the mountains. However, after Josie meets the strange and intense Cole on their vacation, she finds herself involved in a murder conspiracy.
Audience Reviews for The Rich Man's Wife
this is one of those movies that I can watch in the fall and have a good tyme wit. I love that halle berry takes no shit in this movie. this is one of my favorite movies of hers.
Darlene Kegler
This is all very cheesy, unrealistic and soap opera-ish, but that doesn't stop it from being entertaining. It plays like a Lifetime movie, so if that's not your thing, skip this one. But it's good for some mindless entertainment on a quiet evening at home.
Amanda Hendsbee
I would have given this movie at least a 70% but the ending really made me angry. The twist really ruined the whole movie for me and everyone else watching it with me. If you do watch it turn it of on the last 2 minutes and you'll love it.
Amanda Prisco
The Rich Man's Wife Quotes
There are no approved quotes yet for this movie.
Discussion Forum
Discuss The Rich Man's Wife on our Movie forum!