Richard III
(1956)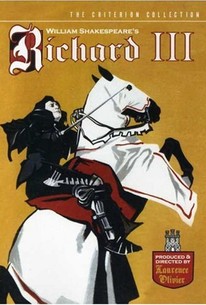 Movie Info
Laurence Olivier was the director, co-screenwriter (with Alan Dent), and star of this robust adaptation of Shakespeare's drama, which, as Bruce Eder has written, "was the final, crowning glory of the British studio system and the end of the great cycle of British films aimed at international audiences." Olivier begins his Richard III with Edward IV (Cedric Hardwicke) being crowned king. In the background of the celebration, Richard (Laurence Olivier) jealously views the proceedings and begins to pick off those obstructing his pathway to the throne. Eventually, Richard becomes king and, after proceeding with a succession of intrigues and duplicities, he finds his kingdom in dire peril, set upon by Henry Tudor (Stanley Baker) and mustering a final defense for his realm at the Battle of Bosworth. ~ Paul Brenner, Rovi
News & Interviews for Richard III
Critic Reviews for Richard III
Audience Reviews for Richard III
Although the depictions of Richard III could perhaps have been overplayed over the years, no one revels in the stereotype like Laurence Olivier delivering a deliciously manipulating Richard.
John Ballantine
Super Reviewer
½
Well, it would appear as though Shakespeare ran out of King Henrys, or Henries; eitherway, it's a forced pluralization. Man, if there was a line of great rulers, you can bet that Will Shakespeare was somewhere taking notes. Hey, Laurence Olivier may have been somewhere in Shakespeare's gene pool for all we know, so maybe he was working on a dramatic, Shakespearean play production on the Kenneys (Or Kennedies) before he passed away... over 20 years after they bumped off the two Kennedi (I'm going with the Octopi format of pluralization, because it feels more appropriate when describing JFK and RFK, seeing as it's pronounded Kenne"die"). Hey, maybe Olivier was working on the big production, but he died before the end of the 30 years that it would have probably taken to make that film, because he will make these Shakespeare dramas way longer than they should be on film. I love how I say that, and yet Kenneth Branagh (a.k.a. Laurence Olivier II) made what may be the finest and most fulfilling adaptation of "Hamlet", and it ran just over four hours, and this film is actually longer than Olivier's "Hamlet", so one can only imagine what Branagh's vision of the film would be like. Probably much better. No, but seriously though, this film is pretty decent, though not without flaws that keep it from being as good as it should be. Exceeding the two-and-a-half hour mark, it's to be expected that there be padding, and sure enough, this film is elongated by dull scenes of pure nothingness, courtesy of the loose editing, or overlong dialogue, courtesy of Shakespeare himself, yet blame for that dull dialogue mostly lays in the hands of Olivier. Now, I understand that's how Shakespeare rolled, but the translation of his small-scope, built-for-stage storytelling comes off awkwardly on film, whether it be the melodramatic soliloquies that come off as unconvincing and sometimes borderline tedious in their being so prolonged, or too many events crammed into one set piece. In the beginning of the film, we see the crowning of a new king, Olivier's Richard character delivering one big soliloquy that pretty much sums up his life's story and Claire Bloom's Lady Anne having a good cry over the death of her husband before having a good argument with Richard, and all of that happens in just one, close-to 20 minute scene, and it just does not work at all. Now, while the film's moments of being faithful to the over packed scenes to a fault rarely get that bad again, the film is riddled with massive dialogue sequences and melodrama that won't for end nothing, and I'm sure worked on stage, but on film, Olivier probably needed to take some more liberties with the source material, because there's no making a fully faithful adaptation of a play this overly Shakespeare without tainting the film itself. It's all so very overbearing, overlong and underwhelming, and could have easily fallen to not simply a level of too slow, but just plain mediocre. Of course, with Olivier on the scene, taking on Shakespeare, you can expect him to get as many things right as he gets wrong. True, he gets a lot of things wrong by trying to get too many things right, and while that may make this another one of Olivier's uniquely faithful adaptation of Shakespeare - liberties notwithstanding -, it's a weaker film for it, though one saved by the fact that for every mistake Olivier makes, he knows how to back himself with some fine taste, particularly in style. The photography doesn't have the awesome sweep of "Henry V", but Otto Heller's cinematography still has a subtle, yet appealing grace to it that may not do as fabulous of a job of keeping you going through all of the overlong dialogue as Branagh's much-later-to-arrive take on "Hamlet" (Four hours, that camera better get my attention), but still helps in keeping you from falling out of the film entirely. Another eye-catching aspect is, of course, the production design, which, like the cinematography, doesn't hold a candle to that of "Henry V", but is still lively and tone-setting enough to supplement your investment in the film. Really, although some flaws in "Henry V" were more glaring, what saved it was its amazing sweep and spectacle, and this almost just as flawed film can't really run to that shelter, because so much of the spectacle in this film, while impressive, has been so severely downsized, even with a runtime that almost exceeds that of "Henry V" by 30 minutes. This, Olivier's final Shakespeare adaptation should, for all extents and purposes, be weaker than his first, and "Henry V" wasn't that much of a knockout to begin with, or at least not to me, yet this film breaks even and stands on par with "Henry V", largely thanks to the fact that the acting in this film is not simply better, but consistently excellent. Every member of the cast plays his or her role effectively and with charisma, yet there are decidedly performers that standout, such as Claire Bloom, who's powerful emotion and subtle presence sets an aura of anguish and confusion as seduction blinds Lady Anne's pain and places her in a controlled but palpable hatred-riddled, seduction-tainted inner battle. Still, neither the anguish nor charm that falls upon Lady Anne and other characters would be possible were it not for one man that controls it all: the titular anti-hero lead, Richard III, and if you're going to sell us on him being a corrupt, dangerous and unpredictable monster, yet one that holds great charm and potential, you need a more than competent actor to drive things home. Well, even with my scarce experience with Olivier's filmography, I can already tell that he was decidedly a much better actor than director, which isn't to say that he didn't raise the bar very high as an actor, because by his own right, he knew what he was doing as an actor and certainly knew what he was doing in this film, pumping Richard III with charisma and presence while casting over him a shroud of disturbing mystery that he knows how to raise just enough for you to know that he is a truly dangerous, unpredictable and brutal man, and you often find yourself on the edge of your seat, waiting to see what dark and dirty deed our anti-hero will pull next, yet you never lose your investment in him as a charmer, and it takes quite a talented performers like the late, great Laurence Olivier to make a lead that layered and compelling, yet very offputting. Overall, Laurence Olivier is once again faithful to Shakespeare's theatrical tones to a fault, packing this film with too much dry, underwhelming material that it does not have the scope or constant excitement to work past, yet the film still stands its ground, boasting fine production value and a wide range of powerful performances, with a charismatic, yet unpredictable and all-around transformative lead acting performance by Olivier carrying and helping in making his take on "Richard III" an ultimately watchable drama that's worth sitting through, no matter how long that sit may be. 2.5/5 - Fair
Cameron Johnson
Super Reviewer
½
Shakespeare, a.k.a. Mr. Wordy, takes a lot of time to say what he means. Thus it is no wonder that this version of Richard III is Tedium 101. Sure, it's a faithful rendition, but Olivier does very little to spice this up a bit. The final scene was laughable. The 1995 version with Ian McKellen is a much more accessible version for the modern audience.
Richard III Quotes
| | |
| --- | --- |
| Richard III: | Now is the winter of our discontent, made glorious summer by this sun of York. And all the clouds that glowered upon our house in the deep bosem of the ocean, buried. Now are our brows bound with victorious wreaths, our bruised arms hung up for monuments, our stern alarums changed to merry meetings. Our dreadful marches to delightful measures. Grim visaged war has smoothed his wrinkled front. And now, instead of mounting barbed steeds to fright the souls of fearful adversaries, he capers nimbly in a lady's chamber, to the lascivious pleasing of alute. But I, that am not shaped for sportive tricks, nor made to court an amorous looking glass, I that am rudely stamped, and want love's majesty to strut before a wanton ambling nymph, I that am curtailed of this fair proportion, cheated of feature by dissembling nature. Deformed! Unfinished. Sent before my time into this breathing world scarce half made-up! And that so lamely and unfasionable that dogs bark at me as I halt by them. Why, love foreswore me in my mother's womb. And for I should not deal in her soft laws, should it corrupt frail nature with some bribe to shrimp mine arm up like a withered shrub. To heap a hidious mountain on my back. To shake my legs upon unequel size. To disproportion me in every part. Like to a chaos! Or an unlicked bare fret that carries no impression like the d*mned. Why, I, in this weak piping time of peace, have no delight to pass away the time. Except to spy my shadow in the sun, and descant on mine own deformity. Then, since this earth provides no joy for me, but to command, to check, to forebare such an hour of better persons than myself, I'll make my heaven to dream... upon the crown. And while I live, I shall account this world but h*ll, until this misshaped trunk that bears this head givin this glorious crown. But, yet, I know not how to get the crown, for many lives stand between me and it. And thus, I am like one lost in a thorny wood, that rends the thorns and is caught with the thorns, seeking away and straying from the way, not knowing how to find the open air, but toiling desperately to find it out! Torment myself to catch the English crown! And by that torment I will free myself, or hew my way out with the bloody axe! Why, I can smile, and murder while I smile. I can wet my cheeks with artificial tears, and frame my face to all occasions. Why, I'll drown more sailors than the mermaids shall. Decieve more slyly than Ureses could, and like a siron, take another troy. I can add colors to the canyons, change shape with many advantages, and set the murderous bell to through! Can I do this? Can I get a crown? Tut, were it further off, I'll pluck it down. |
| | |
| --- | --- |
| Edward Plantagenet (King Edward IV): | Sound drums and trumpets! Farewell, sour annoy! For here I hope begins our lasting joy! |
| | |
| --- | --- |
| Richard III: | Here, pitch our tents. Even here, in Bosworth Field. |
| | |
| --- | --- |
| Richard III: | Teach not thy lips such scorn, for they were made for kissing, Lady. |
Discussion Forum
Discuss Richard III on our Movie forum!