Ricky
(2009)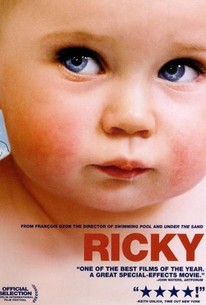 Movie Info
When Katie, an ordinary woman, meets Paco, an ordinary man, something wonderful and magical happens: they fall in love. But then, their love for each other produces an unusual baby, Ricky.
News & Interviews for Ricky
Audience Reviews for Ricky
½
An odd little film about a baby with wings! I was enthralled with the film even though it seemed to have no message or purpose! François Ozon likes to take things of a provocative nature and dump it in her films and let the character's and audience's react! Perhaps the message was simply this... sometimes babies are born to people whom are not prepared for the responsibility! If the baby had been a normal baby I don't believe the family would have been any more prepared or ready for that responsibility then they were for the winged Ricky! The mother and father barely knew each other, both are stressed with work and juggling all those other stresses that come with life! The last thing either one of them needed was a baby! The daughter obviously mature for her age, however the advanced wisdom wasn't a gift so much as a necessity to survive when you live in a state of neglect! If the mother had given birth to a normal baby it too would of suffered neglect. So François Ozon gave her a baby that by virtue of wings could simply fly away! Literally empowered the baby with the gift of flight thereby preventing it from having to pay the price for its irresponsible parents mistakes!
Juli Norwood
This could have easily turned into something cute and frivolous but Ozon has a way of turning a story inside out. Instead, Ricky is an angelic metaphor, an uplifting tragedy about coming to terms with devastating loss. An odd but lovable film.
Randy Tippy
Super Reviewer
½
A single mom factory worker gives birth to a very special baby; of course, every mother thinks her baby is miraculous, but in this case the press thinks so, too. Magical realism that never really gets off the ground; it starts as a dour domestic drama then tries to shift gears and turn into a whimsical comedy. A good idea with a good heart, and beautifully acted, but unexpectedly dull in the execution.
Ricky Quotes
There are no approved quotes yet for this movie.
Discussion Forum
Discuss Ricky on our Movie forum!