Ride in the Whirlwind
(1967)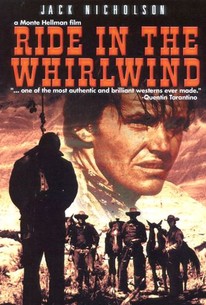 Ride in the Whirlwind Videos
Ride in the Whirlwind Photos
Movie Info
Director Monte Hellman and writer-star Jack Nicholson filmed this western simultaneously with The Shooting (1967). Nicholson stars as Wes, cowpuncher pal to Vern (Cameron Mitchell) and Otis (Tom Filer), who have all been hired as hands for a cattle roundup. En route to their new jobs, the men come across the handiwork of a lynch mob. Later, they find hospitality at the home of Blind Dick (Harry Dean Stanton), who graciously provides them with food and shelter. The cowboys are unaware that Blind Dick and his men recently robbed a stagecoach and murdered the driver. A sheriff (Bradon Carroll) and his posse surround the cabin and hang the thieves. Though innocent, the terrified cowboys flee. Otis is killed, but Wes and Vern escape -- with the posse in pursuit. When they stop to rest at the ranch of Evan (George Mitchell), Wes considers taking Evan's daughter hostage. Trying to steal Evan's horse, Vern is killed by the rancher, who in turn is shot by Wes. Once a law-abiding citizen, Wes has been transformed by unjust vigilantism into a killer. Fascinated by frontier era journals that he discovered in an L.A. library, Nicholson used the documents as inspiration in writing the script.
Critic Reviews for Ride in the Whirlwind
Audience Reviews for Ride in the Whirlwind
½
Nothing really special that stood out to me here. It's a solid 60's "acid" western with great location shooting, but even at its brief 82 minutes it feels overlong. Perhaps this is from the interest in making the pace of the movie "authentic" feeling, which I do appreciate in a way. I just don't see myself remembering this one for any particular reason, but it's a worthwhile watch for fans of counterculture/cult movies and westerns. I'll be watching "The Shooting" soon as well.
Garrett Cash
½
Ride in the Whirlwind Starring: Cameron Mitchell and Jack Nicholson Director: Monte Hellman When three drifters cross paths with a band of desperados, vigilantes mistake them for members of the gang. The innocent riders are forced to become the criminals they are mistaken for if they are to have a chance at survival. "Ride in the Whirlwind" is a surprisingly engaging western. I say "surprisingly", because when it comes right down to it, an awful lot of the movie is spent with characters having fairly mundane and repetitious conversations, and is populated with characters who are as unknown to the viewers when the movie ends as they were when it started. Usually, such elements are signs of a cheap movie that is choking on the padding added to stretch it to a decent run-time. In this film, however, the elements merge with the random way three possibly shady--but certainly not the bad guys they are mistaken for--men are forced down a path of violence and brutality. I suppose this movie is an illustration of how a talented director and cast can create a find movie where hacks would merely produce a pile of crap out of the same material. I recommend this movie if you are a fan of westerns. "Ride in the Whirlwind" occupies a sort of middle ground between the "traditional" American western and the European western (best recognized through Sergio Leone's movies starring Clint Eastwood) that was transforming the genre when this film was released. (Trivia: "Ride in the Whirlwind" was shot back-to-back with "The Shooting", another low-budget western directed by Hellman that featured much of the same cast and used the same crew and locations.)
Steve Miller
We ain't no outlaws Three cowboys are sick of scraping by to make a living. One inauspicious day they encounter three outlaws. Shortly after meeting the outlaws they find themselves in the middle of a firefight between the outlaws and a posse trying to collect a reward on the outlaw gang. The three cowboys escape; however, the posse believes they are part of the outlaw gang and will pursue them to the end of the Earth. "They don't want no trouble. We don't want no trouble." Monte Hellman, director of The Shooting, Two-Lane Blacktop, Beretta, Silent Night Deadly Night III, and the upcoming Road to Nowhere, delivers Riding in the Whirlwind. The storyline for this picture is slow paced and a bit awkward at times. The characters are well portrayed and the action scenes are better than average. The cast is brilliant and includes Jack Nicholson, Cameron Mitchell, and Harry Dean Stanton. "He fell on his knife." I have always been a fan of Jack Nicholson and came across this film while flicking through the channels. This film was not as good as I had hoped and definitely not on par with the Clint Eastwood classics. I was surprised this film is so highly regarded. The movie was too methodical and there was not enough going on for me to truly enjoy the picture. The acting was awesome but that was about it. "I'll be getting back this way I believe." Grade: C+
Kevin Robbins
Ride in the Whirlwind Quotes
There are no approved quotes yet for this movie.
Discussion Forum
Discuss Ride in the Whirlwind on our Movie forum!