Riders (Steal)
(2002)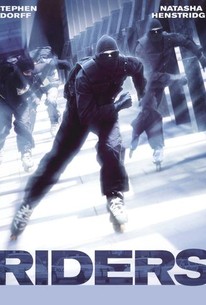 Movie Info
Popular French filmmaker Gérard Pirès makes his first English-language feature with the slick action heist Riders. The film's confusing title history involves four working titles and an international release under the name Steal. A bleached-blonde Stephen Dorff plays Slim, the leader of an extreme sports criminal gang, consisting of Alex (Karen Cliche), Frank (Steven McCarthy), and Otis (Clé Bennett). They wear stylish clothes, rob banks, and get away on rollerblades. Slim's group is pursued by crazed cop Jake Macgruder (Bruce Payne) and Southern-style villain Surtayne (Steven Berkoff). She Spies actress Natasha Henstridge stars as femme fatale Karen.
Critic Reviews for Riders (Steal)
Audience Reviews for Riders (Steal)
½
A heist flick with a difference, that difference being the young criminals use extreme sports to accomplish their goals. Think of it as 'Point Break' but with using various methods to robbing such as roller skating, climbing and sky diving, so not that original then. Its a pretty standard heist idea really, the criminals are the best at their game, cops can't nail them, the leader of the gang is played by Stephen Dorff who falls for police detective Natasha Henstridge who doesn't realise her lover is the criminal she's after and the senior police officer is good old Bruce Payne. Oh and the mafia is also after the gang whilst using them at the same time, usual fluff. Its all very predictable and reasonable fun, some nice stunts and car chases but nothing we haven't seen before. As usual the film is made more interesting because of the snarling creepy Payne who is always ALWAYS the bad guy, so yeah expect the usual twists, not that its much of a surprise, its Bruce Payne!. Kudos also to Steven Berkoff as a wig wearing western cowboy-like mafia head honcho. Not sure if he was suppose to be a western cowboy redneck or some kind of teddy boy/Elvis type greaser, amusing though. Its basically been done many times before but its not terrible.
Phil Hubbs
Super Reviewer
Riders (Steal) Quotes
There are no approved quotes yet for this movie.