Ridicule
(1996)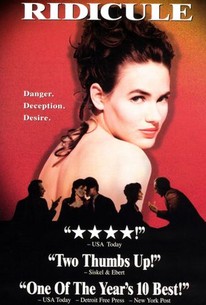 Movie Info
Set in late 18th-century France during the reign of Louis XVI, this costumer provides a fascinating glance into a time where a cruel rapier wit would take one further up the social ladder than gold, land, or birthright and where ridicule could drive a man to suicide.
Rating:
R (Rated R for graphic nudity, some sexuality and brief violence.)
Genre:
, , ,
Directed By:
Written By:
In Theaters:
On DVD:
Runtime:
Studio:
Miramax
Critic Reviews for Ridicule
Audience Reviews for Ridicule
Typical fare that critics love to love, and I just don't relate to.
Cynthia S.
Super Reviewer
A provincial lord goes to Versailles to entreat Louis XVI to finance an engineering project that will save his villagers. This film's concept is engaging and interesting, in the ilk of Dangerous Liaisons: I like the idea that one's wit an ability to manipulate social standing have economic and political weight. Such a concept demonstrates the power of rhetoric as a creation of reality. However, the execution of the film leaves much to be desired. When the film presents itself as an exhibition of fine wits, it is reasonable to expect witty remarks, but all the repartee, witticisms, barbs, come-backs, and clever insults (no puns, of course) are rather lame. There's more wit in a bad House episode than in this whole film. What is more, the love triangle doesn't work for me because the final result is a predictable fait d'accompli. Finally, the conclusion of the film essentially makes the action that preceded it meaningless. Overall, while I like the film's central thesis, I can't find much to like in the action or plot
Jim Hunter
Super Reviewer
an insightful look at the social pressures to appear witty within the Versailles court and how disconnected they are to the real-life problems faced by the peasants... and engineer-scientists. The diving suit was hilarious, and most of the cast perform admirably, particularly rochefort and ardant.
Aaron Chuah
Ridicule Quotes
There are no approved quotes yet for this movie.