Riding Alone for Thousands of Miles
(2006)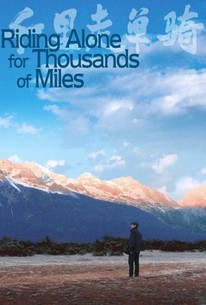 TOMATOMETER
AUDIENCE SCORE
Critic Consensus: Doesn't reach the heights of Zhang Yimou's best, but this is still a heartwarming tale of love and forgiveness from the acclaimed Chinese director.
Riding Alone for Thousands of Miles Photos
Movie Info
On the heels of such extravagant historical swordplay epics as Hero and House of Flying Daggers, Mainland Chinese director Zhang Yimou returns to the reins to tell this intimate tale of an aging father who attempts to remedy a longstanding rift with his grown son. Summoned to Tokyo by his daughter-in-law, Rie (Shinobu Terajima), village fisherman Gou-ichi Takata (Ken Takakura), arrives at a city hospital to find his son, Ken-ichi (Kiichi Nakai), bedridden by liver cancer. Though Gou-ichi attempts to use the visit as a catalyst to heal a decade-long dispute between the pair, stubborn Ken-ichi rejects his father's attempt at reconciliation outright. Subsequently handed a videotape by Rie before departing back to the countryside, Gou-ichi returns home unsuccessful in his efforts to build a bridge of peace between himself and his ailing son. Upon watching the videotape, a research project exploring the Chinese folk arts that was shot by Ken-ichi in the Southern province of Yunnan, Gou-ichi is oddly affected by the onscreen failure of his son in convincing well-known opera singer Li Jiamin (playing himself) to perform the titular song, a classic operatic piece espousing the values of friendship. Now determined to travel to Yunnan and videotape the performance that his son could not, Gou-ichi embarks on a life-changing quest that will not only give him a greater understanding of the relationship between himself and his own son, but set into motion a healing process that will also have a profound impact on the troubled opera singer and the man's long-lost illegitimate son as well.
News & Interviews for Riding Alone for Thousands of Miles
Critic Reviews for Riding Alone for Thousands of Miles
Audience Reviews for Riding Alone for Thousands of Miles
Just to start off, let's call this the little Asian film that thinks it can. Certainly it does, and it almost succeeds (and does succeed on some levels), and it's awful pretty looking along the way, but it lacks a certain something. In this it reminds me of another recent Asian film: Spring, Summer, Fall, Winter...and Spring - both had a lot of potential and some good acting, and some potent (if almost overbearing, at times) imagery, but lacked the execution to get the film where it needed to be, it just sort of flounders somewhere in the middle. Granted, to be fair, I liked Riding Alone For Thousands of Miles a lot better - it had far more redeeming factors; for example, the wonderful performance of Ken Takakura really anchors the film and gives you a reason to keep on. As well, the film picks up significantly once the plot of Yang Yang and his father comes into play. If more time had spent on that it would have strengthened the main plot of Takata and his dying son. Anyway, this is a good film, it's definitely worth watching, but it definitely wasn't all that it could have been due to some sloppy storytelling.
Christopher Mercer
Super Reviewer
½
I'm still trying to figure out, WHY. Why what you ask, why I continue to watch this bloody movie, I mean theres no blood in the movie, just an expression, Guy wandering around trying to do good for his dying son, but tends to piss people off
Bruce Bruce
Super Reviewer
Bob Stinson
Super Reviewer
Riding Alone for Thousands of Miles Quotes
There are no approved quotes yet for this movie.