Riding Giants
(2004)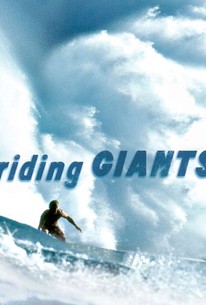 Riding Giants Videos
Riding Giants Photos
Movie Info
A semi-serious, often rollicking, multigenerational insider's look at the origins of surfing, the colorful and subversive birth of surf culture, and the mythology and lure of the "big wave." This passionate and fluid film is the first authentic history of surfing from its humble Hawaiian beginnings to the big business it became to the still-rebellious universe it inhabits today. "Riding Giants" is a study in individuality and freedom, the pursuit and techniques of pure kinetic pleasure, and the risk taking and attitudes that characterize its leading figures. For some viewers, this is perhaps more than they ever wanted to know. But Peralta's detailed knowledge of the surfing lifestyle, its icons and locations, its boom and exploitation by the media, and the fascination it has held for young men for more than five decades is unparalleled and fuels this expedition for the expert and initiate alike. Closely chronicling the sometimes-life-and-death drama that big-wave riding entails, the film is a visual thrill ride. But also revealed is the realization that the man versus nature dialectic never ends; the search for the ultimate wave and the spiritual pinnacle can only be pursued but never reached.
Rating:
PG-13 (for brief strong language)
Genre:
, ,
Directed By:
Written By:
In Theaters:
On DVD:
Runtime:
Studio:
Cast
Critic Reviews for Riding Giants
Audience Reviews for Riding Giants
Great documentary looking at the search for the biggest wave for surfers. Fun history and nicely photographed.
Steve Smith
Nothing like seeing a documentary on a subject which isn't terribly interesting. Sean Penn actually thought this was something worth narrating. Hope he got paid well. It's polished, I'll give it that.
John Ballantine
Super Reviewer
½
"It doesn't get any bigger than this." Documentary detailing the origins and history of surf culture.
REVIEW
"Riding Giants" opens with a brief, animated, two-minute look at the first 1000 years of surfing, which ends about 1950, when the first big-name surfers began to work their magic. Using remarkable half-century old footage, the doc then follows their path to Hawaii, where surfing became not just a hobby, but a culture that was far more than the onslaught of bad surfing movies in the '50s and '60s led many to believe. The big wave surfers gradually progressed to bigger and better waves around the Hawaiian coast, where most of the surfing community was concentrated until the discovery of The Mavericks, a dangerous but glorious surfing mecca in Northern California. Eventually that locale triggered surfing's stateside explosion in popularity. But one man from Hawaii, Laird Hamilton, has sent the sport as mainstream as possible in recent years. Using teams and jet skis, Hamilton's vision and drive radically changed the mindset of what was possible as surfing entered the 21st century. Set up like a traditional documentary, Peralta's film lets the surfers themselves tell most of the stories, and he narrates when necessary to provide pertinent details. But the personalities and passion of the interviewees are what drive the picture. These guys are wired differently than most of us; there's no question about that. Their slightly irreverent but still respectful tone lets them get away with comparing the discovery of Hawaii's North Shore to Columbus stumbling upon America. An exaggeration? Of course, but the genuine emotion in their voices and faces make the words fully believable, much like a football player comparing his sport to a war. Perfectly complementing the almost mythic personalities are the ridiculously massive and powerful waves themselves. From the surprisingly good old-school 8mm footage shot from the shore to the digital in-your-face shots from a jet ski, the photography in Riding Giants is nothing short of stunning. The waves are simply huge, and even though you may have seen quality shots in "Blue Crush", you haven't seen them on this grand and wild a scale. I guarantee your jaw will drop multiple times. The fact that the history of the sport can be encapsulated in less than two hours gives the film a complete and satisfying feel, as opposed to something like Baseball, for which even ten hours was not enough. Those who don't have an interest in any aspect of surfing won't care for it, but even if you can't relate to the surfing directly, you will walk out of "Riding Giants" with a greater appreciation for the sport and a better understanding of what drives those who do it.
Lorenzo von Matterhorn
Super Reviewer
Discussion Forum
Discuss Riding Giants on our Movie forum!
News & Features