Riff-Raff
(1936)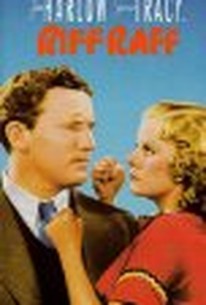 AUDIENCE SCORE
Critic Consensus: No consensus yet.
Movie Info
Spencer Tracy and Jean Harlow play two hard-edged workers in a Pacific-Coast tuna factory. Harlow falls for Tracy who is involved in a union strike that turns messy, and he ends up quitting his job. Harlow decides to steal money to help support her jobless beau and ends up in prison. Due to twists and misunderstandings, it's long before Tracy comes to realize the trials his gal has endured on his behalf.
Critic Reviews for Riff-Raff
All Critics (2) | Fresh (2) | Rotten (0)
Jean Harlow (who gets star billing and is brunette for a change) and Spencer Tracy give tough, energetic performances in this contrived marital melodrama.

Audience Reviews for Riff-Raff
That suits me right down to the ground. Dutch is a tuna fisherman that is great at his job as well as at fighting. His union struggles with a greedy dock owner and Dutch strong arms his way to the leader of the union and leads them against the dock owner. Dutch falls in love and marries a local girl that has also caught the eye of the dock owner. Once they're married Dutch's stubbornness often keeps them apart and he eventually loses his position as head of the union. Can Dutch make up with his wife and get their life back together? "Nick's got a little surprise for you." "I don't want it. What is it?" J. Walter Ruben, director of Secret Service, The Roadhouse Murder, Ace of Aces, Old Hutch, Trouble for Two, and The Bad Man of Brimstone, delivers Riffraff. The storyline for this picture is outstanding and reminded me of On the Waterfront. The characters were so well presented and delivered and the script was awesome. The cast includes Spencer Tracy, Jean Harlow, Una Merkel, Joseph Calleia, and Mickey Rooney. "Sit down. You're getting on my nervous system." I DVR'd this picture during a recent Spencer Tracy marathon on Turner Classic Movies (TCM). I absolutely adored this film. I was shocked at how great the characters are. I have recently become a huge Jean Harlow fan and was mesmerized by her performance and Tracy delivered his character flawlessly. I strongly recommend seeing this picture. "I'm so tough you probably couldn't get a knife into me." Grade: A
Kevin Robbins
½
[img]http://img144.imageshack.us/img144/4587/harlowtracy1am.jpg[/img] Jean Harlow is always remembered as one of the most glamorous stars of all time. But I find she's always at her most beautiful when her glamor is downplayed, like in this film, [i]Riffraff[/i], in which she plays a poor cannery worker. Yes, even in that awful dark-blonde wig, Harlow was never more beautiful than she was in her housedresses. Harlow plays a cannery worker who has long been in love with fisherman Spencer Tracy, who ignores her feelings. The two are antagonistic toward each other, while Harlow gold-digs with the boss. But soon, their pushiness toward each other becomes love, and they get married. But Tracy wants to be a big shot, and his pride and stubborness get him kicked out of the union. He doesn't want to be with Harlow if he can't be important, so he leaves her, without knowing she's pregnant. Spencer Tracy tended to play regular Joes (this role is very similar to his very favorite of mine, [i]Man's Castle[/i]), but Harlow usually played glamor girls, so it was a really nice surprise to see she fit in quite nicely in the world of unions and labor disputes. She and Tracy have remarkable chemistry (see also [i]Libeled Lady[/i]). Their arguments are realistic, as are their love scenes. Tracy is really good as the angry, stubborn fisherman, and Harlow is equally great as his tough, but sweethearted wife. The romance and the core story of labor disputes are well balanced. One never overtakes the other, and they're blended together seamlessly. I always find slice of life films about the Depression interesting, and this one particularly, because it didn't make a huge deal that it was the depression, so it felt a little more like I'm just watching someone's life during the time. And the last scene between Tracy and Harlow is one of the sweetest things I've ever seen in my life. [b]Final Grade:[/b] A
Katie Richardson
½
75/100. The cast alone make this one worth watching. Jean Harlow and Spencer Tracy make a good team, and Harlow is so wonderful in this. Fine story, typical MGM high quality from that era. Well photographed. The story does have some holes in the plot, but it's still a very enjoyable classic. A very young Mickey Rooney is great in a small role
James Higgins
Riff-Raff Quotes
There are no approved quotes yet for this movie.
Discussion Forum
Discuss Riff-Raff on our Movie forum!