Rigor Mortis
(2014)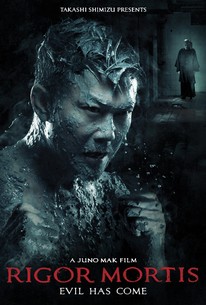 Movie Info
A washed-up actor, desperate and suicidal, moves into a haunted apartment building where supernatural creatures, ghost hunters, taoist exorcists, and the souls of the undead walk among his neighbors. (C) Well Go USA
News & Interviews for Rigor Mortis
Critic Reviews for Rigor Mortis
Audience Reviews for Rigor Mortis
½
If more horror movies had as much effort put into them as this movie had, the horror genre would be thriving, instead of a few studio-produced films getting all the spotlight. That's not to say the horror genre is dead, but compared to other genres, it's stuck in a creative rut. The few independent highlights and their influence simply isn't felt in some of the more cynically produced, studio features like every Paranormal Activity sequel. With that said, I didn't think this film was at all perfect. The movie is certainly a little messy as it relates to story. And the ending is certainly a little cheap, at least in my view. But, and I read this on a IMDB review for this movie, the fact of the matter is that the story doesn't really matter because this is meant to be a visual feast. Other reviews pointed out that, if you had grown up in Chinese culture that you would understand far more of the film than if you're not. I think the explanation falls somewhere in the middle, in the long run, what most people will likely remember, is the fact that the film was so visually inventive and all over the place. The film puts you in this nightmarish otherworldly realm and you're just along for the ride, much like the same character. It doesn't matter that the story is a little fuzzy, the fact is that the visuals are absolutely enthralling and that is what makes this film so damn good. If hell was a real thing, it's not, I can imagine it being somewhat reminiscent of this. And that's really the point of the film, you're stuck in what seems to be hell. I think that's why it, ultimately, doesn't matter that the story wasn't great. This is hell on earth, theoretically, so it doesn't exactly need to make one lick of sense. The ending has also come under a lot of scrutiny. Personally, I think the ending sort of cheapens absolutely everything that went on in the film. Not a lot, but it definitely cheapens it. I'm gonna spoil it, so please do not read this part of the review. Basically, everything that happened in the film, the ghost twin sisters, the black magic, the vampires, the apparitions walking down the corridor were all just constructs of the main character's mind. He used the people he saw on his way to the room, that he ended killing himself in, as his own way to die a hero instead of someone who had lost everything and had nothing to live for. This is, essentially, another version of the 'it was just a dream' ending. I'm not saying that all the crazy shit that happened prior to the ending was completely nullified, but it took away from its impact when you find out that it was just the construct from a dying man's overactive mind. Some people will like it, but I found it really disappointing considering everything that I had seen. Of course, the fact that the actor, whose name I forget, was in such a dark place in his life at that time, the world he constructed was obviously bleak and hopeless. He created a world that needed him more than he needed them. This way, he died as a somebody instead of dying alone, with no one to mourn him. In some ways you could say that this is tragic and somehow makes the film even more bleak than it already is, and there's a point to that, but I didn't like the ending either way. The film is certainly a bit of a slow-burner, but you're so intrigued and drawn in by everything that's happening, that you barely even notice it. In fact, I found the film to be perfectly paced with some absolutely stunning atmosphere. This film joins In Fear as one of my favorite horror films of 2014. Both couldn't be more different, but they offer some great alternatives for the more jaded horror fanatics in the audience. I don't expect this to be everybody's cup of tea, but I had a hell of a time with this movie. This was certainly a sleeper for me. I just wanted to watch a horror film, went into this with no expectations, and I dare say that I was pleasantly surprised by this film. Smarter than it appears to be. Highly recommended if you want something different from the horror genre.
Jesse Ortega
Super Reviewer
Rigor Mortis Quotes
There are no approved quotes yet for this movie.
Discussion Forum
Discuss Rigor Mortis on our Movie forum!