Ringers - Lord of the Fans
(2005)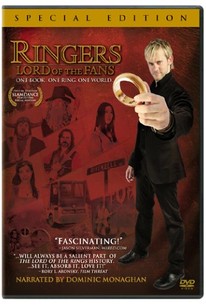 AUDIENCE SCORE
Critic Consensus: No consensus yet.
Movie Info
Of all the documentaries devoted to J.R.R. Tolkien's fantasy classic, Ringers: Lord of the Fans is the first and only one to respectfully honor the good-natured depth and breadth of Lord of the Rings fandom. Like Peter Jackson with his phenomenal Lord of the Rings film trilogy, director Carlene Cordova and cowriter Cliff Broadway (cofounders of theonering.net, the definitive LOTR fan site) were the perfect team to create this wildly entertaining tribute. The film's globetrotting ambition is constantly impressive, but Ringers remains keenly focused on its lively exploration of Rings fan devotion, presented here with a flawless combination of informative objectivity and insider enthusiasm. From the inspiration behind Tolkien's Middle-earth and the immediate success of The Hobbit upon its 1937 publication, to the hippie embrace of Rings mythology in the late 1960s and the revival of fandom in the wake of Jackson's trilogy, Ringers (the accepted nickname of devotees) has it all: Influential authors such as Clive Barker, Terry Pratchett, and Terry Brooks offer their Rings-related insights along with such Tolkien-inspired musicians as Rush's Geddy Lee and Motorhead's Lenny Kilmister, and literally hundreds of fans provide affectionate testimonials to the source of their devotion. Peter Jackson and most of the LOTR trilogy's primary cast are also included in the constant flow of interviews.

Dedicated to Tolkien as a valentine by smart and dedicated fans, the film generates its own infectious goodwill; it's so fun to watch that even non-fans will concede (to borrow a phrase from another world of fandom) that resistance is futile. (Oh, and speaking of Star Trek, the vintage clip of Leonard Nimoy singing his novelty hit "Bilbo Baggins" is absolutely priceless.) Actor Dominic Monaghan ("Merry" from Jackson's trilogy, before joining the ensemble cast of Lost) perfectly delivers the film's eloquent narration, which runs the LOTR gamut from intellectual appreciation to the hilarious eccentricities of über-fan obsession. Unfailingly noble in spirit and delightfully comprehensive, Ringers is a collector's gift that can proudly stand alongside Tolkien's books and Jackson's timeless movie trilogy. --Jeff Shannon
Critic Reviews for Ringers - Lord of the Fans
There are no critic reviews yet for Ringers - Lord of the Fans. Keep checking Rotten Tomatoes for updates!
Audience Reviews for Ringers - Lord of the Fans
A pretty good doc about the LoTR through the ages. It's not really about the movies but more about the cultural impact the books have had on the world since first being published. I learned a lot about the journey to the big screen and recommend this to people who are fans of the movies or the books.
Jason Spencer
Super Reviewer
Ringers - Lord of the Fans Quotes
There are no approved quotes yet for this movie.
Discussion Forum
Discuss Ringers - Lord of the Fans on our Movie forum!