Ringers: Lord of the Fans
(2004)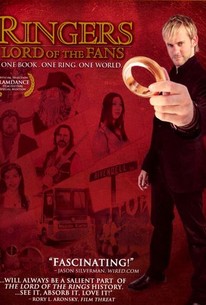 AUDIENCE SCORE
Critic Consensus: No consensus yet.
Ringers: Lord of the Fans Photos
Movie Info
Explore the influence of author J.R.R. Tolkien's Lord of the Rings on modern popular culture in this revealing documentary narrated by Lord of the Rings star Dominic Monaghan. For over fifty-years fans of Tolkien's literary masterpiece have bonded over tales of brave hobbits and evil wizards, and with the release of Peter Jackson's awe-inspiring Lord of the Rings trilogy, even fans who had previously claimed a film could never do the book justice sat in stunned silence when the final credits of Lord of the Rings: Return of the King rolled. So sit back, kick up your feet, and take an intimate look at the die-hard fans affectionately known as "Ringers" and the worldwide community they have built on the foundation of one of fantasy fiction's most beloved titles.
Rating:
PG-13 (some sex and drug references)
Genre:
, ,
Directed By:
Written By:
On DVD:
Runtime:
Studio:
Sony Pictures Entertainment
Cast
Critic Reviews for Ringers: Lord of the Fans
All Critics (3) | Fresh (1) | Rotten (2) | DVD (2)
If you're just a casual fan, you'll find Ringers' history lesson interesting, but its entertainment value sorely lacking.

It's all done so very, very poorly that fan and non-fan alike will have lost interest all too soon.

It is a documentary that will always be a salient part of Lord of the Rings history and honestly, it deserves its own 2+ DVD set.

Audience Reviews for Ringers: Lord of the Fans
Being a fan or Lord of the Rings is something to be pround of. Many people got to show that pride in this cute little history listen about the fan follwing of the greatest trilogy of all time.
Joshua Dzindzio
½
Well, this was certainly disappointing. LOTR being one of the many sources of my eternal geekiness as well as movies-obsession, I was [i][u]really[/u][/i] looking foward to a fun (maybe scary??) light documentary about the crazy fans around the world. Unfortunately, the film really didn't seem to have any idea what it WAS about. It spent the vast majority of the time reciting well-covered history about what the books were about, when and where they were published, etc. Every great once in a while it popped in a snippet of a fan quote choosing their favorite character or why they liked the movies and then would go back to repeating still or stock footage while slowly printing short quotes over it, or talking about whether the books popularity was waxing or waning somewhere in the world. For every fun fact (like footage of Hobbiton, USA in California showing a [i]tiny[/i] bit of its tour), there are 12 Austin Powers-esque lava lamp-shadow montages to stretch time between scenes, apparently continuing to demonstrate the devotion to Tolkien during the hippie period, even though we had passed well into the '70s and, then, '80s and so on. The narration is dry and slow; again, it seems like they just couldn't find anything to fill the time so he compensates by droning. And for the love of God, can anyone explain to me why the entire merchandising for 2 generations of LOTR is represented by a horribly embarrassing [i][u]mariachi [/u][/i]song?!? I didn't even get to see any really bizarre fan devotion; there was [b]no[/b] footage of conventions, the inside of no one's house collection, no weddings, etc, etc. The saddest part is I don't think I actually learned a [u]single[/u] thing. So, while it was lacking severely in it's intended subject matter (the fans), it didn't manage to make up for it with [i][u]any[/u][/i] kind of deeply researched documentary about the author, the filmmaking or any other single aspect. There WERE some entertaining bits, a couple of cute antecdotes and we [i]did [/i]get to add Hobbiton onto our intented vacation to Vancouver in a few years for the Olympics....so I was tempted to give it a nudge over to the positive with a '6'. But for something I would never watch again, even as a TV special, I just can't. Come on, people, there are MILLIONS of people here to interview, film and follow and there have been for decades; [i]surely[/i] you could have come up with 80 or 90 minutes of entertainment. Sigh....maybe somebody will try again later and really do it right.
Janice Yaeger
½
You know that one guy? That guy who's over in the corner, be it at your school or workplace or any public event? He'll either be rather shapeless like a human mc nugget or be so skinny that he'll make Steven Tyler look like Orson Welles. He's not really focusing on where he is at the moment, but you can tell through the cloud of "I haven't washed this shirt since (insert obscure character actor's name here) signed it" smell and behind his eyes, he's cruising through Middle Earth as a crucial Orc slayer. Yeah, that guy. Ringers is about that guy, his friends, his parents, and David Carradine. I love Lord of the Rings. Favorite movie. Favorite book. I do not, however, have an anecdote about how I sold my home to go see Return of the King premiere in Wellington. These are the sort of people in Ringers. They are scary and I don't mean that in a "Psycho" kind of way. I mean that in a "Weird Uncle Herman touched me at camp" kind of way. So a large part of the reason this documentary, which I did really want to see, fell flat for me is because they chose to feature THE most unsettling group of LOTR fans under heaven. Ultimately, why the documentary doesn't work is that it's boring. It's all over the map in style and tone. There is no consistency or coherency in trying to examine the phenomena of LOTR and its fans, and it feels more like random little webisodes than a real feature documentary. There are interesting random bits, but the majority of the random bits feature said off-putting crazy people. Perhaps the real problem is that no documentary on any aspect of LOTR can touch the peerless work done on the extended edition DVDs. There are interesting bits to be found here for fans of Tolkien and his legacy, but you'll have to wade through a whole lot of ....interesting people to get at them. [center][url="http://www.rottentomatoes.com/m/ringers_lord_of_the_fans/dvd.php?select=1"][img]http://images.rottentomatoes.com/images/movie/coverv/39/252439.jpg[/img][/url][/center]
David Yaeger
Discussion Forum
Discuss Ringers: Lord of the Fans on our Movie forum!
News & Features