Ringmaster
(1998)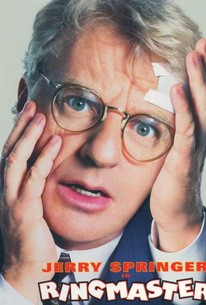 Movie Info
After the success of shock-jock Howard Stern's Private Parts, shock-TV host Jerry Springer made his own foray into celluloid. Fictionalizing only the name of his television show (what is normally called the The Jerry Springer Show, is now called "The Jerry Show"), Springer plays himself as a man who fronts a chair-throwing, dog-and-pony trash TV strip which gets high ratings in the backwoods, armpit communities of America. The story revolves around two sets of guests coming to Los Angeles to be on the show. First, the Zorzak family has slutty 19-year-old Angel (Jaime Pressly), sleeping with her stepdad (Michael Dudikoff). When her mom (Molly Hagan) finds out, she seeks revenge by sleeping with Angel's fiancé, Willie (Ashley Holbrook). The second group consists of Starletta (Wendy Raquel Robinson), who caught her man, Demond (Michael Jai White), sleeping with her best friend, Vonda (Tangie Ambrose). This makes all of them perfect for stardom on The Jerry Show. As all these guests arrive for their big day on national television, more chaos ensues with Springer getting propositioned by Angel and her mother. Even crew members show their stripes by getting involved in the sexual escapades with the guests. The whole scenario is finally brought to a knockdown, gender-bending finale live on national television -- right where it belongs.
Critic Reviews for Ringmaster
Audience Reviews for Ringmaster
Quite simply one of the worst films ever made. Who in their right mind thought it was a good idea to have Jerry Springer in a film? Not only that, the acting was subpar at best. At worst, it was horrendously bad. Look, I get it. A lot of people watch Jerry Springer but most of those people would never openly admit to watching Springer. Poor Molly Hagan. Her career never got started because of this film and we have never heard back from her since this film's release. Jaime Pressly might be cute in that Southern trailer park manner but man, she was not good either. Not only that, no one got naked, which further exacerbates the issue with this film. If you know it's gonna suck, have some gratuitous nudity. Not worth seeing ever.
Christopher Staaf
Centering around an episode of The Jerry Springer Show and the build-up to it, this is an entertaining comedy with a good cast. Jamie Pressly stands out.
The Shrewlord
Super Reviewer
Never in my life have I witnessed such waste of celluloid. Ringmaster is one of the worst comedies ever made. This is the Passchendaele of comedy films. An utter piece of trash mixing every white trash stereotypes. This almost make Miss March a decent comedy (and it's the second worst film I have ever seen). The jokes are pointless and very lame. This is nauseating film with definitely no redeeming features to it. This film makes other bad comedies look great by comparison. I'd rather get by teeth yanked out with a pair of pliers next time than watch this shit film again. Avoid if you like good comedy, you won't find it here.
Ringmaster Quotes
There are no approved quotes yet for this movie.
Discussion Forum
Discuss Ringmaster on our Movie forum!