Rings
(2017)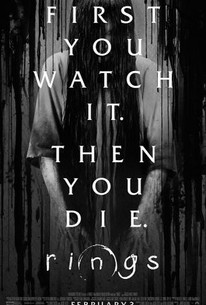 TOMATOMETER
AUDIENCE SCORE
Critic Consensus: Rings may offer ardent fans of the franchise a few threadbare thrills, but for everyone else, it may feel like an endless loop of muddled mythology and rehashed plot points.
Movie Info
A new chapter in the beloved RING horror franchise. A young woman becomes worried about her boyfriend when he explores a dark subculture surrounding a mysterious videotape said to kill the watcher seven days after he has viewed it. She sacrifices herself to save her boyfriend and in doing so makes a horrifying discovery: there is a "movie within the movie" that no one has ever seen before...
News & Interviews for Rings
Audience Reviews for Rings
An uninspiring horror that has little thrills in this obviously weak sequel to the franchise.
Film Crazy
Super Reviewer
½
Okay, Rings is their one mulligan, let's just hope that the horror genre starts following the the path of great flicks that 2016 brought us. To be honest, I never expected much going into this reboot/sequel, and I felt even less attachment to it after I left the theatre. This is yet another horror franchise that is far too afraid to stray from what made it good in the first place, that almost everything seems like a rehash. Sure, it's updated for today and when a VHS player is used, it's justified. I admire that this film tries to take the story in a different direction, but all of the big moments are really just recreations of the original films. Having said that, the portions of the film that are original, I found myself uninterested in. Here is why Rings was completely unnecessary and why I hope the franchise stops here. There is only so much you can pull off with a premise like this, especially in today's day and age, due to the fact that everything is now digital. Opening with the most ridiculous sequence, taking away the thrill of only having one or two people viewing the tape, it felt like a roller coaster ride that shouldn't have been included in the film. Aside from that, there is an opening sequence just before the title card that had be intrigued. The tape is found after someone purchases an old VHS player at a flea market, which leads to a very eerie scene with some interesting visual effects. After that, the film very quickly dives into cliched characters and a plot that feels very heavy-handed. Building on the mythology as much as it possible can and having too many people exposed to this video all at once, Rings becomes confused with itself. A professor at a University holds a bunch of students in a room, searching for random people to put the curse on in order to continue the chain so nobody dies. Selling itself as a soft reboot for the franchise, this film also relies on you knowing certain elements from the previous films. The fact that you can copy the tape or in this case, the file, and hand it to someone else, creating an endless chain, is done throughout this film, but never explained. Only if you have seen the other films will you be able to fully comprehend the occurrences of this picture. There hasn't been a film in this franchise since the release of The Ring Two back in 2005, and playing out as more of a sequel, the timeline needs to continue, incorporating today's technology. This is precisely where the film fails. Social media is at an all-time high right now, so anyone that sees this video would share it to their friends and it would become a global topic. Everyone on the planet would eventually die from this video. This premise doesn't work at all nowadays. If the studio was truly desperate to bring back The Ring, I would have suggested a remake that takes place about 20 years ago. In the end, if you have seen any of the early entries in this franchise, nothing about this film should surprise you. Sure, it adds in a few new elements to keep things interesting, but Rings is poorly constructed and takes far too many turns with its plot to keep viewers fully engaged. Die hard horror fans may get a kick out of a few sequences, but Rings is all been-there-done-that in my opinion. I'm not a huge horror fan. I've said that many times and I will continue to say it, but Ringu and The Ring were great horror flicks that should have just stuck to those two films. For their time, they had an original premise that terrified audiences. Eventually, every single horror film will be reinvented and made into franchises if possible, and you know what? I'll never be against that, as long as a fresh premise is conjured up. Rings fails on everything it wants to be. There are some decent performances and some solid imagery, but this has been done much, much better in the past. I can't get myself to recommend it in any way.
SORRY, WRONG NUMBER - My Review of RINGS (0 Stars) Filing this squarely under "Early In The Year Dumping Ground Movies Nobody Asked For", RINGS plays out like the cynical cash grab as intended. #Goals!! "FIRST YOU WATCH IT. THEN YOU DIE" reads the poster, but it should more accurately state, "YOU WILL DIE WHILE WATCHING IT". Fifteen years ago, Naomi Watts starred in the remake of the Japanese original, both considered classics of the horror genre. I enjoyed them, along with RING TWO from 2005, but more for the visceral gooeyness on display rather than any great scares. Featuring a cool concept of watching a creepy video and immediately receiving a phone call warning you that you'll die in seven days unless you can make a copy and get someone else to watch, the RING was the pyramid scheme of scare flicks. IT FOLLOWS felt like their STD-riddled cousin. RINGS, on the other hand, feels like their dead-on-arrival niece, thrice-removed. More of a reboot than a sequel, with perhaps a little more lore added to that mangy little Samara's storyline, RINGS features the same concept but pasted onto a bunch of horny college students. Progress!! Before the opening credits, we're treated to not one, but two ridiculous sequences. One involves a scared man on a jet whose time to die fast approaches. After a lot of shaky cam and sweating, we're cheated out of the money shot and abruptly cut to Johnny Galecki, who found time off from his BIG BANG THEORY schedule to slum it as a college professor who makes the mistake of watching that stupid Film School 101 tape. Like all spineless teachers with tenure, he chooses to pass the curse along and endanger as many unsuspecting co-eds as possible. One of his victims happens to be Holt (Alex Roe), who just arrived at college, leaving his girlfriend Julia (Matilda Anna Ingrid Lutz) behind to worry herself sick when he goes missing. Lutz, who looks and acts like Phoebe Cates had she swallowed two fistfuls of Valium, tracks Holt down and, in an effort to save him, watches that damn video. Millennials! When will they learn that it's better to thin the herd by letting every one else die. The ship has sailed long ago for taking one for the team! From there, things play out fairly predictably, although in much more boring fashion than you would suspect. Director F. Javier Gutiérrez does the best he can in aping the original, and it's stylishly made. Still, I'd call this a flaming turd, except flaming turds are fun to watch as they arc their way through the night sky, am I right? RINGS is more like that hardened, dried-out piece of doggy do you find on your lawn seven days after it was laid to rest. It's lost that steaming stench, no longer vital, and incapable of even sticking to your shoe. I suppose if you've never seen the original films, you may have a creepy good time, but you will still wonder who that girl is crawling out of your television and why she doesn't have anything better to do! You, of course, do.
Glenn Gaylord
Super Reviewer
Rings Quotes
There are no approved quotes yet for this movie.
Discussion Forum
Discuss Rings on our Movie forum!