RiP: A Remix Manifesto
(2009)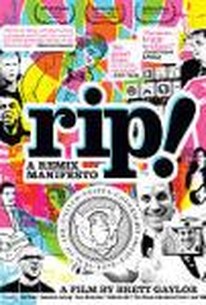 RiP: A Remix Manifesto Videos
RiP: A Remix Manifesto Photos
Movie Info
Filmmaker and Web activist Brett Gaylor explores copyright issues in the information age in this documentary focusing on the controversy surrounding Girl Talk, a popular mash-up artist who takes existing songs and transforms them into something fresh and original. By the mere act of creating his popular, sample-based songs, Girl Talk has incurred the wrath of copyright lawyers across the world. While some celebrate Girl Talk as a true pop-culture innovator, others condemn him as a 21st Century media outlaw. But reality is never as simple as black and white, as viewers quickly discover through interviews with such cultural critics as Creative Commons founder Lawrence Lessig, Brazilian Minister of Culture Gilberto Gil, and BoingBoing.net founder Cory Doctorow. As the lines of battle are drawn in the sand, everyone will be forced to choose a side. The world's first "open source" documentary, RiP: A remix manifesto was created in part by movie lovers and music fans, who were encouraged to remix raw film footage posted by the director on opensourcemedia.com. ~ Jason Buchanan, Rovi
Critic Reviews for RiP: A Remix Manifesto
Audience Reviews for RiP: A Remix Manifesto
Expertly edited and directed, plus being overall well made, Brett Gaylor's RIP!: A Remix Manifesto is truly a supremely fascinating documentary whose ideas are expressed honestly and will surely connect with many younger people in this day and age of copyright regulations, even if it's already somewhat dated in aspects.
Facebook User
A great film on the topic of copyright and remixing. The only negative thing about this film is director/narrator Brett Gaylor's omission of the fact that Negativland actively sought to confuse consumers by releasing their U2/Casey Kasem mashup album with "U2" splashed across the cover in big bold letters. I support their right to invent new art by combining existing source material, but not their shameless marketing tactics.
Luke W
What a great subject to do a documentary on.
rocko perkovich
Super Reviewer
RiP: A Remix Manifesto Quotes
There are no approved quotes yet for this movie.
Discussion Forum
Discuss RiP: A Remix Manifesto on our Movie forum!