Riptide
(1934)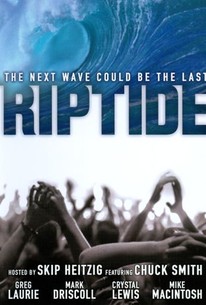 AUDIENCE SCORE
Critic Consensus: No consensus yet.
Movie Info
This documentary from filmmaker Daniel Lusko takes a look at the history of the Jesus Movement from its beginnings in the late 1960s, and examines its influence on modern evangelism. Prominent religious figures Chuck Smith, Greg Laurie, and Mike Macintosh discuss their progress since the Movement's early days, and contemplate how to keep the church relevant in a rapidly changing society. ~ Tracie Cooper, Rovi
Rating:
PG
Genre:
,
Directed By:
Written By:
In Theaters:
On DVD:
Runtime:
Studio:
Warner Bros.
Critic Reviews for Riptide
All Critics (2) | Fresh (0) | Rotten (2)
Gets wrapped up ever-tighter around one very small idea — the notion that a marriage requires much honesty and patience in order to work.

Bryant Frazer's Deep Focus
Routine Norma Shearer (wife of MGM producer Irving Thalberg) romantic love triangle melodrama.

Ozus' World Movie Reviews
Audience Reviews for Riptide
As I started to watch this film, I thought it was going to be a comedy. The characters of Marshall and Shearer meet for the first time dressed as insects. Shearer plays a woman who gives up her carefree New York lifestyle to marry the Lord (played stodgily by Marshall) and lives the sedate married life; until she runs into her ex (played by the ever-so-suave and charming Montgomery). It becomes a cloying melodrama with Shearer caught between two men who love her. It does liven up when Shearer and Montgomery are on-screen together, as they seem to shine together. They make the movie worth watching and save it from being too "soapy".
nefnie lee
Super Reviewer
½
Very sexy pre-code. As always, Shearer and Montgomery are a great pair,and Shearer's chemistry with Marshall is really strong as well.
Katie Richardson
[img]http://classicmoviefavorites.com/shearer/shearer329.jpg[/img] In 1934, the final version of the Hays Film Code was passed, but things were still incredibly hazy in those first few months, and a lot of pre-code type fare got by. One of those movies was [i]Riptide[/i], a film dealing with wild life, divorce, and adultery. Though Will Hays passed it, it recieved a lot of criticism from Code supporters, and was one of the films not approved for reissue years later, along with films like [i]The Story of Temple Drake[/i] and [i]Born to Be Bad[/i]. Shearer plays a loose woman who meets the very proper nobleman Herbert Marshall. They fall in love, get married and have a baby. 5 years later, Marshall goes away on business, and Shearer goes to Cannes with his aunt, where she meets old flame Robert Montgomery, an depressed alcoholic on the verge of suicide. His love for Shearer brightens him up, but she resists his advances, and subsequently there's an accident which lands their friendship on the front pages. Marshall believes Shearer has been unfaithful and plans to divorce her, driving her into Montgomery's arms. The script is really clever and original, not just in its dialogue, but in its situations. The opening scene, in which Shearer and Marshall meet dressed as bugs, is hilarious, and the accident it both funny and sad. The set design is gorgeous, but also manages to be very realistic. Shearer's gowns are surprisingly understated for Adrian designs, and she looks beautiful. The film is filled with very good performances. It's one of Shearer's most even performances. She doesn't screech in melodramatic moments and handles them well, but she again proves that her real gift was for comedy. Montgomery shows once again his amazing range by being very funny, but also clearly putting across his character's deep troubles. Marshall is very good as the quiet husband. And my favorite of the supporting performances is Skeet Gallagher. He's always funny, and he's really entertaining in this. The only thing I really didn't like about the movie was the ending, which seemed cleaned up for the censors. I don't want to flat out tell you the ending, but I'll say that while there seemed to be a pretty even argument for both men, it didn't end the way I wanted. [b]Final Grade: [/b]A-
Katie Richardson
Riptide Quotes
There are no approved quotes yet for this movie.