Rise of the Zombies (Dead Walking)
(2012)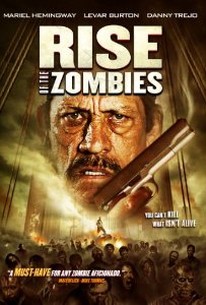 AUDIENCE SCORE
Critic Consensus: No consensus yet.
Rise of the Zombies (Dead Walking) Videos
Rise of the Zombies (Dead Walking) Photos
Movie Info
When the undead overrun San Francisco, a desperate group survives by locking themselves inside Alcatraz Prison. But when the dead invade the island, they must gamble everything on finding a way to stop the zombie scourge.
Rating:
NR
Genre:
, , ,
Directed By:
Written By:
In Theaters:
On DVD:
Runtime:
Studio:
Audience Reviews for Rise of the Zombies (Dead Walking)
½
More Asylum garbage. There isn't much to the plot, and it's pretty easy to see similarities to The Walking Dead. Danny Trejo gets an extended cameo and nothing more, and the rest of the cast isn't much to keep up with. Endless zombie-chase scenes, the film leaves you with nothing but the expected.
Wes Shad
Rise of the Zombies (Nick Lyon, 2012) By the time the title card with "The Asylum Presents" came up five minutes into this movie, I already knew that its place at the very bottom of my 321-item Netflix Instant queue was well-deserved. I didn't realize it was going to get as much worse as it did, though, and by the time I was through I was sitting there slack-jawed trying to figure out (a) how casting director Gerald Webb (who would soon after cast the immortal Sharknado) managed to convince so many former A-list actors to appear in this piece of shit and (b) how I managed to avoid stopping it halfway through. Rise of the Zombies runs eighty-nine minutes. It feels more like eighty-nine days. If you can get through the movie's first scene, with a group of survivors of the zombie apocalypse fleeing through San Francisco to try and make it to Alcatraz-one of the flat-out most ridiculous single scenes I have ever seen in a movie-you'll get to Alcatraz itself, where another small group is holed up trying to find a cure for the plague, led by Dr. Halpern (Star Trek: The Next Generation's LeVar Burton). After everyone in the compound makes a number of, shall we say, questionable choices (this is one of those movies where the plot is driven entirely by people doing stupid things), they...well, continue making stupid decisions. (Spoiler alert!) I have seen hundreds of zombie movies over the years, and a lot of them have been some of the worst pieces of garbage to which I have exposed myself over the years. Zombie '90: Extreme Pestilence. Zombie Apocalypse and its even worse sequel Redemption. Survival of the Dead, the Romero movie not even diehard fans will defend. Infested. Legion of the Dead. I haven't quite decided yet-it would be pretty tough to be worse than Zombies Ate My Neighbours: The Movie-but Rise of the Zombies may in fact be the worst of them I have ever seen. Not just because it's so irredeemably stupid, the effects are terrible, and (of course, it's an Asylum picture) everything about the movie that might once have been decent was ripped off shamelessly from another, much superior, movie. No, what really gets my goat about this one is that once again The Asylum managed to rope in people like Mariel Hemingway, LeVar Burton, and Danny Trejo in yet another cameo. There was enough talent here to create something halfway decent, which cannot be said of Zombie '90 or Zombies Ate My Neighbours. And everyone involved blew it. This is moviemaking at its complete and utter laziest from everyone involved. (zero)
Robert Beveridge
One line summary: Despite 4 real actors, still a bad zombie film. ------------------------------------------------------------------------------------- The zombie apocalypse has already occurred at the beginning of the film. The zombie phenomenon is treated as if it were a disease. One of the major plot threads is the search for a vaccine. Supposedly one has been found by Barney Arnold. There's a refuge on Alcatraz, where Lynn and cohorts reside. Lynn makes contact with Barney, and hopes to get the vaccine. Alcatraz gets a major zombie invasion. Lynn leads a small group to get the vaccine. Caspian leads a second group looking for a new refuge in Petaluma. Dan stays on Alcatraz to learn more about the disease and hopefully heal his infected daughter. While stopping at an upscale house to get food and rest, Caspian's group gets taken out (except for Kyle) by one zombie. Dan makes some progress. Lynn's team has better luck staying alive, but are slow to get to the vaccine. Kyle perseveres. Dan makes some progress on his research, but his daughter infects him so he takes them both out with a grenade at zero paces. Lynn's group barely escapes another zombie attack; they reunite with Kyle. How could this turn out well? We've got four survivors in Lynn's group. The amount of (unproven) vaccine that Barney has is probably very small, and hence unlikely to turn the tide, even if there were enough people to disperse it. Ashley decides to commit suicide out of desperation. We celebrate with another bad couple of SFX. Down to three now. They are attacked again at a police station where they were stocking up on weapons. At last! The three survivors meet Barney. Is it too late? -------Scores---------- Cinematography: 7/10 Variable. The daylight work is crisp and good. The night scenes tend to be useless on visual to the point where sound is the only guide. Sound: 7/10 Just OK. Acting: 4/10 My history with Marial Hemingway, LeVar Burton, Danny Trejo, and French Stewart is through much better properties. Given the screenplay, I still like them. The rest of the cast might as well have been cardboard cutouts with speakers. On the other hand, the onscreen presence of Ethan Suplee is worse than the zombies. Screenplay: 0/10 Logic problems aplenty. The vaccine pursued through the whole film is unproven, and how much is there? The answer is next to none, with no fabrication equipment. The whole enterprise is pointless. The zombies cannot climb much of anything early on, then later they can scale the Golden Gate Bridge? In several scenes, two or three zombies can break open locked prison doors, but later 20 of them have a hard time with a chain link fence door. What was the point of Dan's efforts? All of it seemed to have been lost. Those are hardly the only problems. Barney says he needs a proper lab so he can replicate the vaccine. Where might that be? SFX: 2/10 Cheap, bad-looking. The splatter shots were especially bad, the micro-organism shots were laughable, the delivery of the baby (by Lynn, who killed the mother) was just ridiculous. The grenade explosion was really bad. The electrocution FX near the end were cheesy.
Ed Collins
Rise of the Zombies (Dead Walking) Quotes
There are no approved quotes yet for this movie.