The River (He liu)
(1997)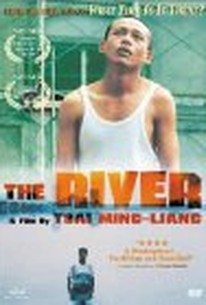 Movie Info
Xiao-Kang, a young man who lives a dismal life with his parents in their small Taipei apartment, develops a terrible pain in his neck which no doctor, nor cure can seem to relieve. His mother is having an affair with a man who pirates pornographic videotapes, while his father is pursuing a solitary quest for pleasure in the city's gay bathhouses. Somehow, Xiao-Kang's pain seems to reflect the problems of each of his parents, and the solutions to each seem connected also, in a way that is not rationally explicable.
Critic Reviews for The River (He liu)
Audience Reviews for The River (He liu)
½
In his third film, Tsai moves his focus to the nuclear family and creates his most depressing work to date - perhaps a bit too depressing for its own sake -, as it follows a group of characters whose murky lives flow like a river through isolation and lack of communication in modern Taipei.
Carlos Magalhães
Super Reviewer
½
Tsai Ming-Liang seems to have a preoccupation with urban disconnect. While The River appears early on to be focusing on generational differences and how we decay with age, he reveals that the two characters who would embody the disparate elements of this idea are directly related (literally), signaling that Tsai is instead looking once again at said urban disconnect to captivating results. A young, gorgeous Hsiao-Kang runs into a girl he hasn't seen in two years and is invited to visit a film set where she is working. He's asked to play a dead body in the film, floating in polluted water for a minute or two. The pair later have sex, sex that is juxtaposed with the "intimacy" of an older couple who seem to be miserable together. Their lives are grim. The father cleans, sits alone in McDonald's (talk about decay), and regularly frequents bathhouses for cheap sexual gratification from reluctant male workers. The mother watches porn alone and is having an unfulfilling affair with someone in that industry. They sleep in separate rooms. The roof starts leaking dirty water. Hsiao-Kang is shown to be their son and starts dealing with horrible neck pain immediately after his day on set. They're all miserable and everything goes downhill from there. Tsai's direction is deliberate, with static shots and very long takes, focusing on rundown buildings, rain, leakage, and urban decay. Thematically, it resembles an Antonioni film in its focus on modern disconnect and existential sickness from physical and spiritual pollution, these ideas similarly crammed into every frame leaving plenty for audience members to ruminate on. It ends perfectly, doubling down on its bleak nature in a way that is bold without being gratuitous, a near perfect addition to what is likely a brilliant body of work from an essential director.
Reece Leonard
some don't like tsai's pacing but i have found him mesmerizing and this is certainly no exception. and while many considered it bleak, i saw it more as a black comedy. i'm watching tsai's films in order which isn't strictly necessary i guess but i do believe there is an overarching narrative and this is an important piece of the puzzle. to be continued...
Stella Dallas
Super Reviewer
The River (He liu) Quotes
There are no approved quotes yet for this movie.
Discussion Forum
Discuss The River (He liu) on our Movie forum!