Rivers Wash Over Me
(2009)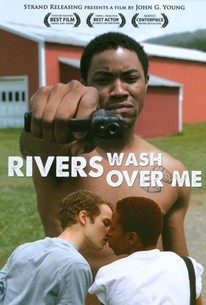 AUDIENCE SCORE
Critic Consensus: No consensus yet.
Rivers Wash Over Me Videos
Rivers Wash Over Me Photos
Movie Info
The death of his mother means more than just grief and sorrow for 15-year-old Sequan Greene in Rivers Wash Over Me. Now the gay teen must move from the progressive streets of New York City to his closed-minded extended family's home in North Carolina. Though he struggles to get along with most people he encounters, he bonds with a headstrong young woman. Sequan even finds that romance may be more than just a memory when he meets someone new. All his personal drama happens against the backdrop of gun theft from the school principal's car, lending urgency to this independent drama.
Rating:
NR
Genre:
Directed By:
Written By:
In Theaters:
On DVD:
Runtime:
Studio:
Strand Releasing
Audience Reviews for Rivers Wash Over Me
½
Though most of the most performances in the ensemble weren't bad, everything was just a bit too cliched, too well-worn, too derivative, too stereotyped.
Lee Mayo
For all the great potential this film had, it suffered one fatal flaw: Poor direction, always just a beat or two off. So close to the mark, but still a fail. How can a director take such a great story, set in such a picturesque setting, with such capable actors and still make a movie that begs perfection but delivers second-best? Disappointing. Having ranted, now it's time to rave. Derrick L Middleton and Aidan Schultz-Meyer (whose photography I was already familiar with, but didn't realize that it was him until the end credits rolled) are beautiful, talented, and like getting a taste of chocolate but with no pay-off, leave us craving more. I almost had a personal moment when they kissed... Wow, that was hot, and very sweet. Elizabeth Dennis was the perfect fag hag, and even made the obligatory attempt to turn Sequan straight. Cameron Mitchell Mason did a very credible job as Michael, Sequan's sexually-confused cousin who abused him, but who also clearly had a thing for him, too. It doesn't hurt that he's pretty damned cute. There were moments that made me cringe; Michael's abuse, the classroom scenes where Sequan was incontinent and embarrassed, and the scene leading up to his shooting. That made me cry. There were also scenes that were almost too perfect for this flawed movie. The swimming scene with Sequan and Jake in the stream was gorgeous. Their moment alone in the graveyard with the becalming Appalachian Mountains (New York Appalachians standing in for Alabama Appalachians) in view was perfect. And then there was that kiss... Derrick L Middleton's Sequan is so familiar to me, as is Aidan Schultz-Meyer's Jake. It's nice to find a movie with characters who seem so familiar, so much like someone you know but just can't quite put your finger on. I'd say that's a very good acting job, indeed, when an actor, or actors in this case, can make you feel that way throughout an entire movie.
Jim Chatman
Rivers Wash Over Me Quotes
There are no approved quotes yet for this movie.