Rivers and Tides: Andy Goldsworthy Working With Time
(2002)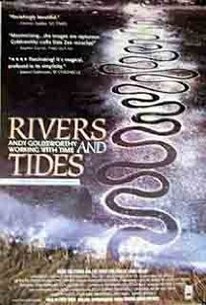 Rivers and Tides: Andy Goldsworthy Working With Time Videos
Rivers and Tides: Andy Goldsworthy Working With Time Photos
Movie Info
Documentarian Thomas Riedelsheimer shows us Andy Goldsworthy as he creates art in natural settings using natural materials such as driftwood, ice, mud, leaves, and stones. Goldsworthy comments on his "earthworks" and occasionally responds to offscreen questions from Riedelsheimer while he painstakingly builds his outdoors sculptures. With some exceptions, such as a winding stone wall that he built in Mountainville, NY, Goldsworthy's creations are intentionally mutable works. We see how several of them fall apart, melt, or drift away due to exposure to the elements; we also see, for example, a complex structure of interconnected sticks collapse while Goldsworthy is still working on it. Riedelsheimer takes us to Goldsworthy's home in Penport, Scotland, and to a French museum, but the emphasis of the film is on observing Goldsworthy at work. ~ Todd Kristel, Rovi
Critic Reviews for Rivers and Tides: Andy Goldsworthy Working With Time
Audience Reviews for Rivers and Tides: Andy Goldsworthy Working With Time
In understanding the art behind Goldsworthy, one must enter the realm between nature and artistic fiction. If you are visionary enough, you might just find out that this realm is something worth capturing
Kevin Lee
½
This is the most hilariously overrated film I've seen in recent memory. It made me laugh harder than Superbad. And the piles of lavishing praise shown in these reviews take me to an extremely cynical place with the epiphany that Art is truly a minor part of peoples' lives. Even professional film critics (paired with the "user comments" of gullible civilians like/unlike yours truly) reserve a small window for the seeming "fine" arts, and whatever cow patty splats at their feet conveniently gets awarded the quota. To be ironic and yet truthful, I highly recommend this film for some of the funniest moments in cinematic history. You will be cheering for Andy's little nature puzzles to collapse by the first quarter-hour, and when they do, it's devilish fun.
H. Paul Moon
½
[font=Century Gothic][color=sienna]"Rivers and Tides" is an interesting, low-key documentary about Andy Goldsworthy, a Scottish sculptor who works in nature while using material that he finds. The documentary captures his working at home in rural Scotland and abroad in Nova Scotia, New York and France. Goldsworthy is not sure what his sculptures will turn out due to the very unpredictability of what he is working with. Some of them are designed to be carried away by the rivers and tides. Thus, he illustrates how nature is ephemeral. It's very different seeing artwork that is not permanent and hanging in a museum.(I was thinking about the temporary paintings that were created only for "The Mystery of Picasso.") Goldsworthy captures these temporary sculptures by photographing them. [/color][/font]
Rivers and Tides: Andy Goldsworthy Working With Time Quotes
There are no approved quotes yet for this movie.
Discussion Forum
Discuss Rivers and Tides: Andy Goldsworthy Working With Time on our Movie forum!