The Road from Erebus
(2002)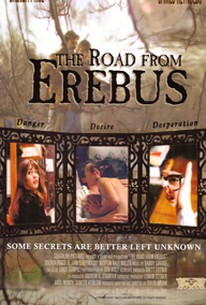 AUDIENCE SCORE
Critic Consensus: No consensus yet.
Movie Info
A man's one-night stand turns into an obsessive search for the mysterious woman who ran out on him. Brenda Price, D. James Reynolds. Directed by David Sporn.
Rating:
NR
Genre:
Directed By:
Runtime:
Studio:
Short End Productions
Critic Reviews for The Road from Erebus
All Critics (1) | Fresh (1) | Rotten (0)
The plot is the stuff of great pulp fiction ... Where does a vicious psychotic named Clootie figure in?

Audience Reviews for The Road from Erebus
[font=Times New Roman]I cant believe that it has been almost 4 years since I left Bradford College. I left not because I didnt like the school, I left because I was forced to leave because the school closed due to going in debt of over 20 million dollars. So you can say that I wasnt pleased to up and leave but I ended up in a better position so I cant honestly complain too much.[/font] [font=Times New Roman][/font] [font=Times New Roman]Bradford was a unique place. It only had about 500 students and most of us lived on campus. The school was located in a little quiet town that was just 5 miles from the border of New Hampshire. The first day at campus I found out that you could buy beer at the gas station. What a great concept that was. There were three dorms and a row of apartments. Two dorms and the apartments were located at the back of the school, so dealing with campus safety was something we never really needed to worry about. I lived in Tupelo East which was the newest dorm on campus. The dorm was awesome, a lot bigger than the ones at Niagara. My room was broken up into a bedroom then a living room. My room was in the stairwell which sucked because we heard everything that was being said when people walked up and down the stairs. And another reason of why my room sucked was because I lived next to the RA just like I did, sophmore year at Niagara. But some positives of the dorm was co-ed bathrooms. It was always a fun thing to walk in to take a shower and see a girl taking her shower. Its everyones dreams. LOL. My dorm had 4 floors and about 100 to 150 people living in the dorm, so basically you knew everyone who was on your floor and in the dorm. We all were like one big family and that was the entire atmosphere all across campus. [/font] [font=Times New Roman][/font] [font=Times New Roman]I loved hanging out with the friends that I had up there. We all were a unique and brought something new to the table. There were some of us who didnt get along with others and that caused some tensions and friendships never to be fully formed. I was looking at pics of some friends that i went to school with and go upset that one person ruined my chances at having more of a friendship with them, but I guess it wasnt meant to be. [/font] [font=Times New Roman][/font] [font=Times New Roman]At Bradford, campus safety was a total joke, They were there only to be there. They really didnt do anything. One campus safety officer was a drug dealer outside of school, so right there shows you the school didnt care and we didnt mind because we all got away with anything we wanted to. I can remember one party that we wanted to take the school's mascot which was a 400 pound wooden Squirrel. So me and the roomie decided we would get it and bring it to the party, talk about a bad idea. There was snow on the ground and we were pretty loaded so that made for an interesting trip. But we got it there and everyone loved it. I made the comment that this squirrel belongs in the lake and when I woke up the next morning, what did I see? That damn squirrel in the lake and didnt know how it got there. All I know is that I didnt put it there. I dont think we ever did find out how it got there. [/font] [font=Times New Roman][/font] [font=Times New Roman]Spring time involved a ton of booze and nights that I cant remember too much about. Around this time was Spring Day in which we could carry booze all across campus and nobody cared. So i went to class at 9 with a screwdriver in a 30 oz cup, what a way to start off the day. It was great to see people bombed in class and the professors not caring one bit. So once classes all ended we had a BBQ outside, couches from the dorms, and whatever else we could find and a whole shit load of booze. That day will go down as one of the best days ever.[/font] [font=Times New Roman][/font] [font=Times New Roman]And now comes professors and classes. Bradford wasnt the best school in the world, but it also wasnt the worst. Some majors were good and others were just a waste of time. The professors were good and very professional and we all learned a lot. Of course some professors were a joke and others were just plain evil, but they all were respected. Even after we all found out there would be no more Bradford next year, they still worked hard which was good because we all needed something to keep us focused on school.[/font] [font=Times New Roman][/font] [font=Times New Roman]When the news came out that Bradford would be no more, I was passed out in bed. I was pretty much the only one who didnt go to the meeting. Im glad that I didnt go because I dont think i could have handled the shit that they were saying. We all were in shock and were down for a few weeks because we all knew that the end would be near soon. But once we got over feeling sad, we just tried to make the best of things.[/font] [font=Times New Roman][/font] [font=Times New Roman]People wanted to take things with them to remember Bradford. I didnt want anything but my memories. So whatever things I had from Bradford ended up being thrown into the lake. Im sure that whatever I threw in there is still there today. In four years I have only spend about 10 minutes on campus. I would have liked to spend more time there and just reflect on everything. The good memories of Bradford I do not want to forget because they were good times shared with good people.[/font] [font=Times New Roman][/font] [font=Times New Roman]Do I regret having Bradford being closed. No I cant say that I am upset with it. I ended up going to a better place doing something that I really wanted to do. I ended up making a good bunch of friends that I will have for a long time. But those friends and memories from Bradford will not be forgotten.[/font]
Drew Weiss
The Road from Erebus Quotes
There are no approved quotes yet for this movie.