Road House 2
(2006)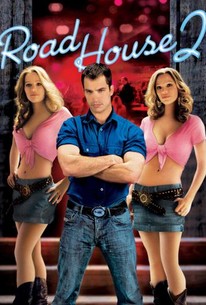 AUDIENCE SCORE
Critic Consensus: No consensus yet.
Movie Info
A group of malicious drug runners are attempting to take over the Black Pelican roadhouse, and it's up to the owner's nephew to beat down the bad guys and keep the club in the family in director Scott Ziehl's sequel to the 1989 Patrick Swayze cult classic. When undercover DEA agent Shane (Johnathon Schaech) learns that his uncle Nate has been brutally assaulted by thugs in a violent attempt to muscle away ownership of the battered bar owner's lucrative watering hole, he hastily comes to his uncle's rescue while attempting to locate the powerful drug lord who authorized the attack. Now, as an endless barrage of drug runners descends upon the Black Pelican with every intention of using brute force to claim the place as their own, it's up to Shane to take on the toughest fighters in the underworld save his uncle's bar the only way that he knows how.
Critic Reviews for Road House 2
Audience Reviews for Road House 2
Man, I would hope for better for Johnathon Schaech, but I guess he's trapped forever in b-movie hell with films like this. Don't get me wrong, it's sort of an okay watch for what it is, but it never has the charisma of the original film, nor does it make a lot of sense as far as the tenuous connections they draw with the first film. Rental.
Bill Bryant
An entertaining diversion, but not nearly as good as the original (of course the original had Swayze and Sam Elliot). The sequel does have lots of action, great fight scenes, and plenty of good looking women. But, not much of a plot, some HUGE coincidences, and it recycles too much from the first movie. Plus I always find it distracting that the entire police force is corrupt and no one notices, except for one cop, who thanks to the hero remembers he's really a good guy at just the right moment; or an area is an absolute hotbed of drug activity and it's not on anyone's radar until the protagonist literally stumbles into it; or especially when EVERYONE in town is a totally hot, weapons trained, martial artist who never has to go to work - somehow it makes it harder to suspend my disbelief...
John Wagner
A pretty decent if predictable action film. It works ok as a sequel although I don't think there are any character connections? Just the same style of plot but brought up to date. Some pretty good choreographed fight scenes make this slightly above average.
Road House 2 Quotes
There are no approved quotes yet for this movie.
Discussion Forum
Discuss Road House 2 on our Movie forum!