Road to Hollywood
(1947)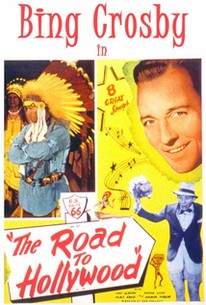 AUDIENCE SCORE
Critic Consensus: No consensus yet.
Movie Info
Road to Hollywood may have starred Bing Crosby, but it was by no means one of his popular "Road" pictures with Bob Hope. In fact, it wasn't even a new film when released in 1946. Road to Hollywood is comprised of clips from Crosby's two-reel musical comedies made at the Mack Sennett studios between 1931 and 1932: I Surrender Dear, One More Chance, Dream House, The Billboard Girl, Blue of the Night and Sing Bing Sing. Astor Pictures, a firm specializing in reissues of older films, owned the rights to these short subjects and had already made a mint distributing them to theatres in the early 1940s. Now Astor hoped to sustain the cash flow by excerpting the old Crosby films into a hazy "continuity," then passing the whole melange off as a "new" feature picture. Heavily advertised and craftily promoted, The Road to Hollywood was a success, making plenty of money for everyone but Bing Crosby and Mack Sennett.
Critic Reviews for Road to Hollywood
Audience Reviews for Road to Hollywood
I don't know who thought that making up a biography for Crosby through use of footage from his early films was a better idea than creating an actual biography of Crosby's life. It is interesting to get to see some of his old movies though, but other than that it's silly.
Road to Hollywood Quotes
There are no approved quotes yet for this movie.