Roadracers
(1994)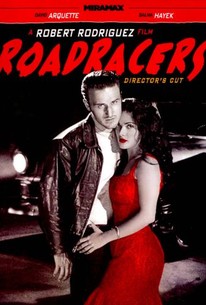 AUDIENCE SCORE
Critic Consensus: No consensus yet.
Movie Info
Swaggering rebel Dude (David Arquette) crosses a corrupt sheriff and stumbles into a world of trouble, fights to stay on his feet as his voluptuous girlfriend (Salma Hayek) comes along for the ride. John Hawkes, Kevin McCarthy, and William Sadler co-star.
Rating:
R
Genre:
, ,
Directed By:
Written By:
In Theaters:
On DVD:
Runtime:
Studio:
Critic Reviews for Roadracers
All Critics (3) | Fresh (3) | Rotten (0)
A slick, fast-paced greaser picture that shows off the incredible talent of director Robert Rodriguez.

Rodriguez said that he cast Arquette for the "good sleaze factor." Arquette's constant sneer throughout the film proves that Rodriguez was absolutely right.

Audience Reviews for Roadracers
½
In the 90s Showtime produced a series of TV movies under the umbrella title "Rebel Highway," in which new talent in front of and behind the camera made new movies inspired by and taking the titles of 50s B-movies. This was the first entry in that series, directed by Robert Rodriguez and starring David Arquette and Salma Hayak. Its a pretty solid film about a rebel taking on a rival and his cop dad, and trying to keep his girl and maybe make it as a musician. It isn't the best movie in the world, but when you look at it as an edgier homage to the B-movies about rebel teens made in the 50s, this is a fine tribute to those pictures.
Ken Scheck
http://expletivedleted.livejournal.com/114238.html Earlier this year, I'm thinking about my mini projects I'd been contemplating. I knew for a while that Tarantino/Rodriguez would follow Edward Norton. So I was IMDB-ing these guys yet again. God only knows how many times I've seen both of their pages. I was sure I already owned all of their movies, but the OCD in me needed to see the list again. But wait. What was this? A movie under Robert Rodriguez' credits that I'd never even heard of? Whaaaa??? That movie was Roadracers. This strange little American Graffiti-esque flick starring Salma Hayek and David Arquette. Wikipedia tells me that this was part of an original movie series done by Showtime. A handful of directors were asked to pick a title from a movie from the 50s, and do their own take on it, that may or may not invoke the original. Basically the experiment was to see what'd happen if Rebel Without a Cause was made today. I kinda wish I had that context when I first saw this. It's definitely making a lot more sense, and looking less weird. If you're keeping score at home, you'll notice I said a very important name in the Robert Rodriguez universe: Salma Hayek. Not only is Roadracers her first film working with the man whose muse she would become, but this is also her US film debut. Its kinda strange for me seeing her as a high school student, but she's still got that sass and spunk that we love in Salma. David Arquette is the doofy tough guy with a heart of gold. He dreams of playing guitar in a band, but can't seem to get past his small town issues including a feud with the sheriff's son. The movie's still a little rough, but considering it was a low budget made for tv movie, written and directed by a fledgling director, it really aint all bad. It further sets the tone for the style we've come to love and expect from Mr Rodriguez, and it's certainly a fun twist on that expectation. http://www.expletivedleted.com http://www.twitter.com/expletivedleted
Dawn Erickson
A greaser picture from the wonderfully eccentric mind of Robert Rodriguez, "Roadracers" is an entertaining and wonderfully unique work from the talented Director. I'm a huge fan of Rodriguez and his gift to make great films despite early budgetary limits are nearly unmatched in the industry. This early work from him takes place in the 50s and feature David Arquette for his sleaze factor, so says Rodriguez. It's entertaining, briskly paced and over the top in places all with Robert Rodriguez's unique look and feel to it. If you are a fan then be sure to check out this early work of his, you won't be disappointed.
Chris Browning
Super Reviewer
Roadracers Quotes
There are no approved quotes yet for this movie.
Discussion Forum
Discuss Roadracers on our Movie forum!