Robot Jox
(1989)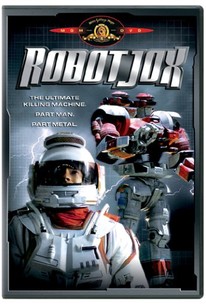 AUDIENCE SCORE
Critic Consensus: No consensus yet.
Movie Info
Sometime far into the future international powers settle their differences in gigantic arenas where each nation sponsors an incredible robot gladiator. These gladiators duke it out to determine the distribution of world territories. This might be best appreciated by pre-teen video warfare fans.
Critic Reviews for Robot Jox
Audience Reviews for Robot Jox
Robot Jox is campy fun, with hilarious dialog, crude special effects, and a crazy plot. It's a little dark at times, and the twists are uninspired, and the ending is out of nowhere. But there's some sense of joy seeing giant stop-motion robots go at it.
Wes Shad
½
The 1980s was one of the movie industry's best eras and one of its worst. That is because a lot of great classic movies were born in that era. However, just as many really bad movies came out of that decade. There was also a handful of movies that while seemed bad at the time, have since proven to be so far ahead of their time and underappreciated in hindsight. Orion Pictures' 1989 sci-fi action flick Robot Jox is one of the latter of those movies. And thanks to Shout! Factory, Robot Jox a new generation of moviegoers will see for themselves just how underappreciated the movie has been ever since its debut some twenty-six years ago. That is because Shout! Factory's horror division Scream Factory re-issued the modern classic b-movie on Blu-ray this summer. Audiences that give this movie a chance will see for themselves that there is a lot that makes this movie well worth the watch, its script being the most important of its elements. The script presents a story that is more than just two men facing off in a pair of giant, fighting robots. Rather it is something deeper. That something deeper will be discussed at more length shortly. Its special effects are, colletively speaking, another important part of the movie's whole. In comparison to both action movies from that era and from today's age of big budget special effects blockbusters, Robot Jox boasts special effects that are surprisingly impressive. They are impressive both in themselves and in juxtaposition to the movie's story. That will be discussed at more length later. Last but hardly least worth noting of the movie's re-issue is its bevy of bonus material. Audiences get an extensive amount of interviews with those that worked behind the cameras in order to bring the movie to life. It adds plenty of insight and in turn enjoyment to the overall viewing experience. The result of that enjoyment is the agreement that Robot Jox is in fact one of the most underrated movies of its time and perhaps even of its genre and in knowing this, it proves itself to be one of the best of this year's crop of new re-issues. Scream Factory's (Shout! Factory's horror division) recent re-issue of the classic sci-fi B-flick Robot Jox is one of the best of this year's crop of new re-issues. The main reason for the honor is the movie's script. On the surface, it would seem to the untrained eye that the script presents a story that is just another movie about giant, fighting robots. But in reality it is far more than that. The script presents a story with just as much commentary and drama as with enjoyable fight scenes. The commentary in question can be argued to be the product of then Cold War tensions between the U.S. and Russia as Achilles-an American robot jock-faces off against Alexander-who interestingly enough is a Russian character played by an American actor-in a battle for the rights to Alaska and its resources. It is interesting to note that writer/director Stuart Gordon never makes clear which countries are on which side of the two post-WWIII factions. So it can only be assumed from this subtlety and the use of the movie's two main characters that in fact Stuart was reflecting tensions in the real world as a model for the tensions divisions within the world of Robot Jox. It is just one part of what makes the movie's script such an important part of the movie's whole. The human drama element incorporated into the movie makes for even more interest and enjoyment. Achilles' (Gary Graham-Alien Nation, All The Right Moves, Star Trek: Enterprise) personal drama was nothing new to the world of movies and television then nor is it now. But the fact that Gordon was able to keep that element overtake the story's other elements or even become too schmaltzy is a tribute to Gordon's attention to detail. The same can be said of his ability to prevent the action sequences from overpowering the script, too. In comparison to so many of today's major action flicks, too many of those movies rely more on the quantity of explosions than the quality of the story in whole. Thankfully Gordon's creation wasn't and isn't one of those movies, even having been released in 1989. It balances that element with the movie's commentary and human drama to make a script that ensures audiences' engagement from beginning to end. In turn, that balance proves the movie's script to be one of its most important elements if not its most important. Stuart Gordon's script is one of the most important elements of Robot Jox's presentation. It balances each of its elements so well that it will assuredly keep audiences fully engaged. On a side note, considering the amount of foul language peppered throughout the script and Athena's short scene featuring her bare backside, it is a surprise that this movie got a "PG" rating. Maybe that's just the sign of changing times. Regardless, the script behind Robot Jox is just one part of what makes the movie such a welcome re-issue. The special effects utilized in Robot Jox are just as important to the whole of the movie as the movie's script. The special effects are such an important element in that in comparison to action flicks churned out in the 80s, few if any relied on models and stop motion photography in the same fashion or extent of this movie. Rather, most action flicks of the time were beginning to rely on bigger budget special effects including what was then the earliest incarnations of computer generated special effects and other movie magic. To see that those behind the cameras went the low-fi (for lack of better wording) route instead in this case just makes it all the more enjoyable. That is because it throws back to the days of Roger Corman's classic B-flicks. It shows that such an approach could at the time still result in a movie that looked surprisingly impressive and that movie makers didn't necessarily have to use the more modern approach to entertain audiences. For that matter moviemakers could probably use such an approach today and it would still look better than most of the explosion-laden action flicks that currently pollute American theaters. That in mind, the special effects used in Robot Jox, which are themselves discussed at more length in the bonus commentary included in the reissue's bonus material, show just how important they are to the whole of the movie even nearly four decades after the movie's original debut. The script behind Robot Jox and its special effects are both equally important in considering what makes this movie such a welcome return. As important as both elements are, they are only a couple of parts of the whole of the movie's enjoyment. The extensive commentaries from those behind the cameras are just as important as the movie's script and it special effects in considering its enjoyment. Audiences will note of the movie's bonus commentaries, that they get to hear from the movie's writer/director Stuart Gordon as well as others behind the cameras including members of the movie's special effects and visual effects department. Audiences learn through the interviewees' discussions about the work that went into assembling the robot models used in the fight scenes, and the work put in to hide the wires on which the miniatures were mounted as well as the very work put in to bring the robots to life per se among so many other topics. Those and all of the other topics tackled along with the bonus gag reel and interview with star Paul Koslo (Joe Kidd, The Omega Man, Vanishing Point) combine to show why the bonus material included in the movie's new Blu-ray re-issue is just as important to the movie's script and special effects. It gives an in-depth look at just how much work went in to bringing to life not just the robots, but the movie in whole. According to one of the interviewees, the movie actually took some four years to be completed. That is a lot of time and work; time and work that paid off quite well in the end as the movie's re-issue reveals. It paid off so well that the result is, again, one of the best of this year's crop of re-issues. Scream Factory's new Blu-ray re-issue of Robot Jox is one of the best of this year's crop of new re-issues. It is more than just another cheesy 80s action flick. Rather it is a movie with a script that seems to reflect the world's political climate at the time of its debut and boasts special effects that are surprisingly impressive compared to both those of other 80s action flicks and those released in recent years. The discussions on those special effects and other aspects of the movie's creation in the reissue's new bonus commentaries rounds out the movie's presentation makes for even more appreciation for the movie. In the end, all three elements together show clearly why Scream Factory's re-issue of Robot Jox is one of the best of the year's crop of new re-issues. It is available now in stores and online and can be ordered direct via Shout! Factory's online store at https://www.shoutfactory.com/film/action-adventure/robot-jox. More information on this and other titles from Scream! Factory is available online now at: Website: http://www.shoutfactory.com/tentpoles/scream-factory Facebook: http://www.facebook.com/ScreamFactoryDVD Twitter: http://twitter.com/scream_factory To keep up with the latest sports and entertainment reviews and news, go online to http://www.facebook.com/philspicks and "Like" It. Fans can always keep up with the latest sports and entertainment reviews and news in the Phil's Picks blog at https://philspicks.wordpress.com.
Philip S
½
Some epic robot/mecha fighting going on here with some epic stop motion effects hehe well sort of, its certainly very dated and looks more like an episode of 'Red Dwarf' than a film but its so gloriously tacky and fun. A Band production (he does churn them out) which does seem to bare a small similarity to the recent 'Reel Steel' but admittedly is more of a mech film. Basically trained fighters combat in massive mechs for control of certain parts of the world which hold value but the fighters are part of a 'Formula 1' type team. Its chock full of silly sci-fi and wonderfully cheesy effects and bluescreen, some of which looks OK some of which looks nasty, but one things for sure the cast do their best to make it seem serious *chuckle*. Its very easy going stuff and perfect for those sci-fi hounds out there that love a good B-movie and I'm sure we all know of Mr Band's work. Goodies wear white and are team America where as the baddies wear black and are naughty evil team Russia (boo! hiss!) 'crash n burn'.
Phil Hubbs
Super Reviewer
Robot Jox Quotes
There are no approved quotes yet for this movie.
Discussion Forum
Discuss Robot Jox on our Movie forum!