The Rocky Horror Picture Show
(1975)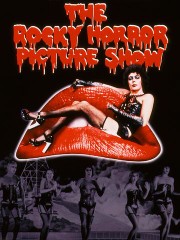 The Rocky Horror Picture Show Trailers & Photos
Movie Info
This low-budget freak show/cult classic/cultural institution concerns the misadventures of Brad Majors (Barry Bostwick) and Janet Weiss (Susan Sarandon) inside a strange mansion that they come across on a rainy night. After the wholesome pair profess their love through an opening song, their car breaks down in the woods, and they seek refuge in a towering castle nearby. Greeting them at the door is a ghoulish butler named Riff Raff (Richard O'Brien), who introduces them to a bacchanalian collection of partygoers dressed in outfits from some sort of interplanetary thrift shop. The host of this gathering is a transvestite clad in lingerie, Dr. Frank N. Furter (Tim Curry), a mad scientist who claims to be from another planet. With assistants Columbia (Nell Campbell) and Magenta (Patricia Quinn) looking on, Frank unveils his latest creation -- a figure wrapped in gauze and submerged in a tank full of liquid. With the addition of colored dyes and some assistance from the weather, Frank brings to life a blonde young beefcake wearing nothing but skimpy shorts, who launches into song in his first minute of life. Just when Brad and Janet think things couldn't get any stranger, a biker (Meat Loaf) bursts onto the scene to reclaim Columbia, his ex-girlfriend. When Frank kills the biker, it's clear that Brad and Janet will be guests for the night, and that they may be next on Frank's list -- whether for murder or carnal delights is uncertain. And just what is that mystery meat they're eating for dinner, anyway? In addition to playing Riff Raff, O'Brien wrote the catchy songs, with John Barry and Richard Hartley composing the score. ~ Derek Armstrong, Rovi
more
Cast
News & Interviews for The Rocky Horror Picture Show
Critic Reviews for The Rocky Horror Picture Show
Audience Reviews for The Rocky Horror Picture Show
Mister Caple
Super Reviewer
½
An adorable hybrid of musical, comedy and horror parody with a delightful performance by Tim Curry, who steals the show and was certainly having a lot of fun doing this movie - and it is full of great songs, delicious over-the-top acting and well-inspired moments.
½
Somehow my flixster rating for this was 2, even though I never saw it before (huh?).
Well, what do you know, finally watched it tonight and rating was about right.
Glad I finally saw it, but honestly it's nothing I would rush to watch again.
It's original, I will give it that. I liked a few, not all, of the songs. And full marks to Susan Sarandon. I did not actually realise she was in this.
On the downside, it's kind of ugly to look at and you have to suspend belief beyond what you normally would in a musical. I'm not sure I entirely "got" it, to be honest. It's kind of grotesque.
Actually really having trouble articulating my thoughts on this. That is probably exactly what they were going for!
The Rocky Horror Picture Show Quotes
Brad Majors: Janet, they're obviously foreigners, and this must be one of their national dances.
Dr. Frank-N-Furter: That's a rather tender subject. Another slice, anyone?
Dr. Frank-N-Furter: Don't be upset...It was a mercy killing. He had a certain naive charm, but no muscle.
Dr. Frank-N-Furter: I hope you're adaptable, Dr. Scott. I know Brad is.
Discussion Forum
Discuss The Rocky Horror Picture Show on our Movie forum!
News & Features