R.O.D. - Read or Die
(2003)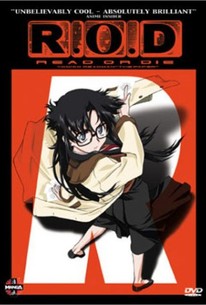 AUDIENCE SCORE
Critic Consensus: No consensus yet.
Movie Info
Yomiko Readman is a bespectacled substitute teacher who spends every cent she earns on books. When a weird humanoid riding a buglike monster tries to steal a rare book from her, Yomiko performs some amazing battle moves using pieces of paper as weapons. She's immediately drafted into the British Library Special Engineering Force, assigned to Operation Manuscript Retrieval. The mutant clones of a demented scientist are stealing rare books from libraries around the world. The resurrected scientist plans to destroy the human race by reconstructing and broadcasting Beethoven's lost "Death Symphony," which will compel everyone who hears it to commit suicide: it's up to Yomiko and her teammates to stop him. This slight, off-the-wall sci-fi adventure boasts handsome designs, polished animation, and skillful direction; it's a pity the artists weren't given a better vehicle for their talents. (Unrated: suitable for ages 14 and older: considerable violence, grotesque imagery) --Charles Solomon
Rating:
NR
Directed By:
In Theaters:
On DVD:
Runtime:
Audience Reviews for R.O.D. - Read or Die
Eleven years after release I finally managed to get around to watching this anime. For the uninitiated this is a three episode OVA (Original Video Animation) put onto one disc. To call it a movie would be inaccurate since they are clearly cut into three seperate parts. But these three episodes are one whole story. The first part is a good means to introduce us to Yomiko Readman, our heroine. And her addiction is books, which is how the events of this story begin to unfold. While buying a super rare and old book, some "famous" faces from the past begin to surface. And their mission is to retreive this book from her at all costs. Of course Yumiko doesn't know or care why; she merely wants to read the book. In most other movies she would merely be a fish out of water brought into a new world but what we probably wouldn't know is that she is part of a secret agency and her mission as an agent is to get the book back. Another part that I need to mention is that this world does have some supernatural aspects to it. Which sadly are not explained, so we really don't know why Yumiko can control paper and form it to her will. And her fellow agent Miss Deep can go thru objects, once again at will. As I had said the first part is used as a means to let us learn about Yumiko, Joker, etc. The second part carries all of this over as Yumiko and Miss Deep/Nancy go to India or thereabouts where they encounter another figure from the past. As such I will leave the rest to you to watch. The animation holds up pretty well considering its age. It was done by Studio Deen, whom I have held a grudge with since the atrocity that was Samurai Deeper Kyo. And the music had the spy/espoinage feel to it, which I would agree is accurate and usually fitting for what was going on during the show. My only problem was a lack of explanation for certain things. Like the powers of our heroines, or who exactly the main bad guy was, their motives were essentially we are bad guys and we want to do a really bad thing to the world cuz we are bad and evil. For a little while I honestly thought the bad guy was a re-animated version of Beethoven. So some things were either lost in translation or they assumed I have read the manga. Aside from that bigger compliant it was a largely entertaining affair. So if you are wanting a like spy action to keep you busy for an hour and a half look no further than Read or Die.
Nathan Bobzien
½
Testing....1..2..3...[i]aaannnndddd[/i] I'm on the air! Live from Kansas City, Missouri It's Scarletmeteor's [b]JOURNAL[/b]!!!:cool:
Sarah Burke
Read or Die is the kind of story that you can jump into and follow with little to no difficulty. The visuals are great, even compared to most OVAs and the voice acting in Japanese and English is supurb. The only problem I have is that those unfamiliar with the manga or R.O.D The TV may be confused at to what is happening.
Kay Barkeley
R.O.D. - Read or Die Quotes
There are no approved quotes yet for this movie.