Rod Steele 0014: You Only Live Until You Die
(2002)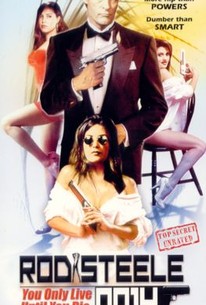 AUDIENCE SCORE
Critic Consensus: No consensus yet.
Rod Steele 0014: You Only Live Until You Die Videos
Rod Steele 0014: You Only Live Until You Die Photos
Movie Info
Written and directed by Rolfe Kanefsky, this erotic spoof of the famous James Bond franchise follows secret agent Rod Steele (aka Agent 0014) in his effort to save the world from the evil plans of arch-villainess Tangerina. Robert Donavan stars as Steele, while Michelle Bauer, Gabriella Hall, John La Zar, and Jacqueline Lovell are also included among the cast.
Rating:
R (adult situations/language, nudity, sex, violence)
Genre:
,
Directed By:
Written By:
In Theaters:
On DVD:
Runtime:
Studio:
New Concorde Home Entertainment
Critic Reviews for Rod Steele 0014: You Only Live Until You Die
There are no critic reviews yet for Rod Steele 0014: You Only Live Until You Die. Keep checking Rotten Tomatoes for updates!
Audience Reviews for Rod Steele 0014: You Only Live Until You Die
If you've ever wished James Bond would put his mission on hold and fool around with the scores of gorgeous women he attracts, or if you wished Austin Powers was ten times funnier and had the indecency of showing his cast of lovelies without their clothes on, then Rod Steele is the secret agent for you. Certainly one of the funniest eroticoms ever made, and even without the abundant nudity it might be the best Bond parody! Unquestionably the one with the best title. A lot of thought went into this production and got the most out of its meager budget. Obviously writer/director Rolfe Kanefsky is a fan of the source material and manages to satirize Bond conventions with regularity, from a hilarious song-and-opening-title sequence, right down to the Connery-influenced vocal burr of Robert Donavan. Our man Steele, you see, although British works for the American government, but unfortunately being a secret agent in tough economic times means departmental cutbacks which includes flying coach and scaling back on gadgetry. "What do they do?" asks Steele expectantly when lab wizard P presents him with a pair of black tennis shoes in his survival case. "They comfort your feet, and come in very handy in case you have to run." Donavan is terrific and clearly enjoying himself and that extends throughout the cast, whatever their state of undress. Take De'Ann Power as evil mastermind Tangerina: every time she appears in a new scene, she's posed as a recreation of a notoriously racy photograph including LaToya Jackson's serpentine Playboy spread, Demi Moore's Vanity Fair cover, Janet Jackson in Rolling Stone, Marilyn Monroe in The Seven-Year Itch and Madonna. Throw in B-movie vet John LaZar and the beautiful bodies of Gabriella Hall, Jacqueline Lovell, Tammi Fallon, and Delphine Pacific, and any guy would be hard-pressed not to find something to smile about.
Doctor Strangeblog
Super Reviewer
½
Rod Steel 0014: You Only Live Until You Die is the poor man's hilarious attempt at trying to replicate a softcore pornographic variation of the famously more popular James Bond series. Though this film managed to make me chuckle a couple of times, I couldn't help but remember watching these types of films when I was 13 or 14 and it was late at night on cinemax after my parents had gone to bed. Honestly, these types of films have to be catered to the 15 years old and under market. After 15, we needed to move on to sneaking around and watching hardcore porno films instead. Anyways, for this movie, the Rod Steel is sent on a new mission to take down a super-villain, Tangerina. Thanks to a mishap in the airport with a scientist, Rod takes with him a super weapon that causes women to instantly become horny, disrobe, and fuck the closest person next to them. With that, there was a sex scene about ever 5 minutes, which, in fact, got boring (gasp) after awhile (well, of course, it's softcore! It's fake!). The most recognizable name in this film (and a woman I LOVE to see naked) is 80's cult genre icon Michelle Bauer who, very unfortunately, is one of only 3 or 4 women in this entire movie (and there are a lot) that never gets naked. Suffice to say, this film was a bit of a letdown. Alright, but overall, a letdown.
Jason Duron
Discussion Forum
Discuss Rod Steele 0014: You Only Live Until You Die on our Movie forum!