Rodan
(1956)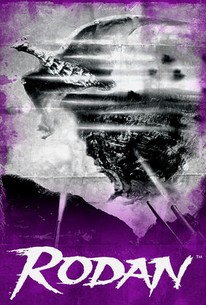 Movie Info
The second major addition to Toho Studios' giant-monster series after Gojira (aka Godzilla, 1954), was Rodan (or Radon), a giant pterodactyl whose wings create massive, destructive winds as it flies by. There are actually two of them in this film, mates who finally get together (after the traditional destruction of various Japanese cities) and die in an oddly touching lovers' death-swoon into an active volcano. The film's best sequence is the chilling opening, in which Rodan's egg is discovered in a cave by doomed miners. The first color film in the series, Ishiro Honda's effective thriller features some interesting special-effects work by Eiji Tsuburaya and was dubbed into English by actors including Keye Luke and future Star Trek crewman George Takei. ~ Robert Firsching, Rovi
Rating:
NR
Genre:
, ,
Directed By:
In Theaters:
On DVD:
Runtime:
Studio:
Entertainment Rights
Critic Reviews for Rodan
All Critics (10) | Fresh (7) | Rotten (3) | DVD (1)

Ozus' World Movie Reviews
An entertaining, well-made monster movie with absolutely nothing on its mind.

As tedious and lethargic as [the original] Godzilla was smart and engaging.

Audience Reviews for Rodan
½
Solid Japanese monster movie, the first from Toho to be filmed in color, "Rodan" is about a mining village that is disrupted when a giant caterpillar starts attacking miners...but deeper in the mines is an even greater threat...Rodan, a Pteranodon which hatches from it's giant egg and reeks havoc on the town. It would be hard for Toho to ever come close to topping "Gojiro," but "Rodan" is a solid effort that does it's best to try.
Ken Scheck
Following Godzilla's success we get another monster created from nuclear radiation running a mock. Like Godzilla it exploits fear of the nuclear age but its story is a lot more tedious and the human characters much less interesting not to mention the monster far less iconic. Still it has its charms as far as 50s monster movies go
Jim Arapostathis
Following the success of Godzilla, those crazy guys in Japan decided to make a bunch more giant monster movies, and one of the first after Godzilla was this film, Rodan. Like the basic plot of Godzilla, this film invovles the horrors of nuclear technology being responsible for spawning some horrific creatures. A group of miners are attacked by a giant caterpillar creature, but then the monstrous pteradon Rodan shows up, but after taking care of the caterpillars, Rodan, along with its mate, go on their own rampage, and the militarty really has their work cut out for them trying to deal with these flying terrors. This is classic, cheesy B-movie schlock. It's not great, but it's a lot of fun, and very, very entertaining. The biggest issue I had (since I'm able to overlook the limited special effects) is how a lot of these monster movies are prone to having lots of filler, which isn't a good sign since the running times are often very short. This one in particular is only 74 minutes. Aside from that, this is silly, dopey fun that you should consider giving a watch a least once, especially if you're in the mood to giggle.
Chris Weber
Super Reviewer
Rodan Quotes
There are no approved quotes yet for this movie.
Discussion Forum
Discuss Rodan on our Movie forum!