Roger Corman's Death Race 2050
(2016)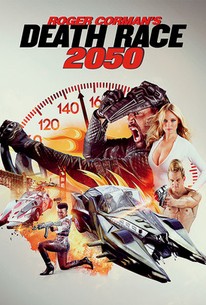 Roger Corman's Death Race 2050 Photos
Movie Info
Legendary filmmaking icon, Roger Corman, is back with his most outrageous film yet in this sensational, action-packed and darkly humorous reboot of the original Death Race 2000! It's the year 2050 and America is controlled by an all-powerful corporate government ruled by The Chairman (Malcolm McDowell). The masses have been brainwashed with violent virtual-reality entertainment. The event of the year is the Death Race, in which a motley crew of violent drivers compete in a cross-country road race, scoring points for shamelessly running people over and driving each other off the road. The reigning champion and fan favorite, Frankenstein (Manu Bennett), who's half-man half-machine, wants to take the crown, but his rebel spy co-pilot threatens his legacy.
Critic Reviews for Roger Corman's Death Race 2050
Audience Reviews for Roger Corman's Death Race 2050
I suppose you could call this the real remake to Death Race 2000 as it's the same plot but obviously set in 2050 as the year 2000 has been and gone, Anyway this remake is complete garbage, The acting is terrible the script was stupid, The effects were poor and the death race itself was boring, A few gory kills every now and then but still don't waste an hour and a half of your life on this, You have been warned.
Jamie Clarke
Super Reviewer
½
Not exactly sure what is the point of the movie... In this remake, a totalitarian United States of Corporation ruled by Chairman (a pretentious mockery of Donald Trump), 5 racers race to kill as many people as possible before a transcontinental finish line. The racers are archetypes: Rogue AI controlled car Abe, religious fanatic Tammy, ghetto Minerva, Sexually frustrated Jed and legendary Frankenstein. The race was made harder with the rebellion running loose. Death Race 2050 is a huge disappointment, it from the serious tone of the other Deathrace movies to this... I understood the satirical humour in the original but this one is trying so hard that it fell apart. The acting is awful, the special effects and gore were as fake as it could be but not grindhouse quality. The cars looked worn before the race even began. There are so many things wrong with this movie but Burt Grinstead gave his best and he was actually convincingly funny
Sylvester Kuo
Super Reviewer
Roger Corman's Death Race 2050 Quotes
There are no approved quotes yet for this movie.
Discussion Forum
Discuss Roger Corman's Death Race 2050 on our Movie forum!