Roger Corman's Frankenstein Unbound
(1990)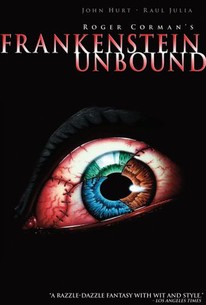 Roger Corman's Frankenstein Unbound Photos
Movie Info
In this horror film, scientist Dr. Joseph Buchanan (John Hurt) has made a brilliant discovery in the futuristic world of the year 2031. When a bizarre testing glitch sends him back to the 1800s, he makes friends with Baron Frankenstein (Raul Julia), Mary Godwin (Bridget Fonda), Percy Shelley (Michael Hutchence), and Lord Byron (Jason Patric). When Buchanan discovers that the ghastly events described in the soon-to-be Mary Shelley novel Frankenstein are actually being performed, it is up to the scientist to find a way to stop the experiments and get back to his own century.
Critic Reviews for Roger Corman's Frankenstein Unbound
Audience Reviews for Roger Corman's Frankenstein Unbound
½
The plot is messy, there are a lot of things going on mixed with things that already happened. While it starts off rather interesting, it gets pretty dull mid-way, and eventually becomes dumb. The characters aren't too driven, and the effects are less than appealing, but the make-up is neat. The movie ends up feeling stale and over-done.
Wes Shad
Fun and twisty reworking of a plot that has been reworked a hundred times before. The limited budget is very obvious but Hurt and Julia don't let that stop them from hamming things up and having a lot of fun with the ridiculous time-travel plot.
Mark Nash
Frankenstein was always my most favorite of the old school Universal monsters. He tried hard to not be a monster. He fought against his nature. And he was created out of man's blind ambition and science. And while this version takes a very odd and interesting turn where the monster is more in the background and man's blind ambition is more of what is the true monster it keeps the original story and theme. Oh, and there is time travel as well. Both John Hurt and Raul Julia gives wonderful performances, and the rest of the cast is decent. Every time I see a movie with Julia it really shows what the world of cinema lost when he died. The characters are fairly well-written. The film has a fairly bad name since the monster does look more like the result of genetic mutation rather than a creature built together by human bodies. The film has several violent scenes ala Corman style that seem to be there mainly to add violence rather than substance to the film, but apart from that, the film is pretty good, at least worth a watch, if only one watch.
Michael Vanderpoel
Roger Corman's Frankenstein Unbound Quotes
There are no approved quotes yet for this movie.
Discussion Forum
Discuss Roger Corman's Frankenstein Unbound on our Movie forum!