Rolling Kansas
(2004)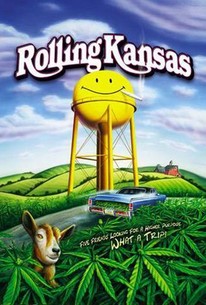 AUDIENCE SCORE
Critic Consensus: No consensus yet.
Movie Info
The stoner road movie Rolling Kansas is the writing and directing debut of actor Thomas Haden Church (Lowell from NBC's Wings). The story concerns the Murphy brothers: Gas station attendant and local pot dealer Dave (Jay Paulson), paraplegic student Dink (Sam Huntington), and recently divorced Dick (James Roday). Just when Dick is about to lose his T-shirt-selling business in Texas, the brothers find a treasure map leading to special forest of marijuana in Kansas. Left to them by their late hippie parents, a plentiful supply to sell could answer their various financial problems. This sends the three brothers on a road trip in a junky car, accompanied by Dave's upbeat co-worker, Kevin (Charlie Finn), and Dink's useful roommate, Hunter (Ryan McDow). Rip Torn makes a cameo as a horticulturist while Church appears as a cop and a DEA agent (along with comedian Kevin Pollak). Rolling Kansas premiered at the 2003 Sundance Film Festival.
Critic Reviews for Rolling Kansas
All Critics (3) | Top Critics (1) | Fresh (3) | Rotten (0)
A lame-brained, pot-smoking comedy that's genial, good-natured and more than a bit funny.

The characters are magic. The dialogue, twisted and insane and perfect. The timing, fabulous. But then the storyline kicks in and, sadly, everything goes to hell. Well, maybe not hell... but a place very warm. And red. And Satan is there. Okay, it's hell.

Audience Reviews for Rolling Kansas
I can't remember why I wanted to see this...Sam Huntington, James Roday and Rip Torn...whatever. It wasn't horrible. It was refreshing to see Sam Huntington as something other than the dorky kid who has problems socializing. Roday was a tad creepy with the mustache. It was redonkulous and funny. Although from the title you would kind of expect them to be getting high a lot in the film...not so much.
Sarah Helwig
I watched this because James Roday is in it, and I have to say it is pretty funny. No one smokes a single particle of weed on screen but the whole film is about weed, which seems contrary but actually works for this film. I also watched because it was directed by Thomas Haden Church who I also happen to be a big fan of. With all of that said most people would find this film boring, but I liked it.
Christopher Johnson
½
if you've heard this is just a stoner movie...give it a chance. it's very much about friendship as well.
Chris Doan
Discussion Forum
Discuss Rolling Kansas on our Movie forum!