Rolling Stones: Live at the Max
(1996)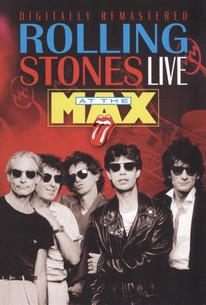 Movie Info
The central figures in this documentary/performance are The Rolling Stones: Mick Jagger, Keith Richards, Ron Wood et. al. Filmed at various Stones concerts in Turin, Berlin and London, the film manages to capture the euphoria of a live event due to the IMAX system format: a huge 70mm image projected on 50 X 70-foot screen, accompanied by 6-track "surround sound." Thus, by its very nature, At the Max cannot be properly experiences within the dimensions of the TV screen, nor was it intended to.
Audience Reviews for Rolling Stones: Live at the Max
These "boys" really know how to put on a show. I have trouble getting out of bed in the morning and these guys smoke, drink and god knows what else. A grand introduction into the world of Mick Jagger and band members. Grand, expensive stage props. Mick jumping and cartwheeling all over the place on stage. Charlie Watts sits emotionally cool at drums. The Stones concerts are over the top all the time, and on purpose. These boys know you usually have to sweat a little to pack em in. Play list in order of performance: Continental Drift Start Me Up Sad Sad Sad Tumbling Dice Ruby Tuesday Rock and a Hard Place Honky Tonk Woman You Can't Always Get What You Want Happy Paint it Black 2000 Light Years from Home Sympathy for the Devil Street Fighting Man Its Only Rock n Roll Brown Sugar Satisfaction Its only Rock and Roll Image Entertainment again excels at filming this live concert Steel Wheels tour. The dvd is THX mastered to give the choice of PCM stereo soundtrack OR a Dolby digital 5.1 surround soundtrack. Color, 85 minutes, always look for Image Entertainment for filming excellence.
monsieur rick
The film that led me to never miss a Stones concert in Toronto. My favourite which I find more rewarding than even the Marty's recent attempt. In fact, I would say that all future Stones concert films copy this format..and don't have the benefit of having a Bill Wyman.
John Ballantine
Super Reviewer
Rolling Stones: Live at the Max Quotes
There are no approved quotes yet for this movie.
Discussion Forum
Discuss Rolling Stones: Live at the Max on our Movie forum!