Rolling Stones - Voodoo Lounge
(1996)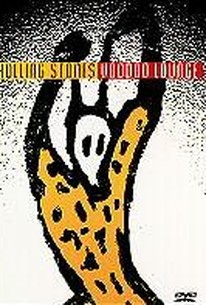 AUDIENCE SCORE
Critic Consensus: No consensus yet.
Movie Info
Rating:
NR
On DVD:
Runtime:
Critic Reviews for Rolling Stones - Voodoo Lounge
There are no critic reviews yet for Rolling Stones - Voodoo Lounge. Keep checking Rotten Tomatoes for updates!
Audience Reviews for Rolling Stones - Voodoo Lounge
From the very start you knew this was going to be a show. Unlike the sun drenched stage of a decade back at Sun Devil Stadium in Arizona... the Lets Spend the Night Together venue.... this was much better packaged then that performance of 1981. But I must inform you that this film is NOT rated for its video quality. The video in this youtube.com presentation is NOT that good. It must have been taken from a television set. That is NOT the fault of the show, the Stones or any thing. So I do not consider the source of this video in my rating of 100%. [img]http://t2.gstatic.com/images?q=tbn:ANd9GcSw-R6y4QJzGKfKTYJJu012YcQV_bEKn95GaDLxpGSBMOYScE3VWg[/img] In the parlance of the day, this is the biggest SELL OUT band of all time! They sold their soul to company store. Ok, next is a subject I detest about the Stones. Love em as I do, they keep thrusting Keith Richards on the stage as some sort of singer. God help us. He stinks big time. He is NO singer. At least the Beatles could boast of Ringo, and more importantly Harrison as singers AND songwriters. Another reason the Stones will have to kiss the feet of the Beatles forever into rock n roll eternity. [img]http://www.studiopark.co.uk/p2.jpg[/img] oldies but greaties While listening to this concert, I can not help but think just which sixties band.... the Beatles or the Stones were, or are, the greatest rock bands ever. Well, EVER is a lot of bands. So just between the two, I would be forced to pick the Beatles.... now do not spit and hate me. It's simply because the Beatles had such a wide and deep catalog of songs. The Stones, while great for being around so very long and very PRODUCTIVE at that, have never had that song Michelle, or Hey Jude or Yesterday song. Do you realize Yesterday, the song, has been covered by so many artists it's rediculous? [img]http://t3.gstatic.com/images?q=tbn:ANd9GcQ4VjjLG3uZ_dygNzY0qQ6dHgtzcLEK79AyH1m-6g3-Kg_Q5sLoSw[/img] How many Stones songs have been covered by ANYONE? Of course, no one tries to cover a Stones song. Why? Well I just would guess it's too much their own song. Not as I recall, but I have NEVER heard ANY song of the Stones covered by ANYONE. That's a real accomplishment isn't it? So there is my case of Beatles vs. Stones. It's no contest. [img]http://t1.gstatic.com/images?q=tbn:ANd9GcQoJuHYXCFw99IVzMSHjRuRkhtllngXzx61rAc5W_ES0-ad6G7LQg[/img] Or look at it this way. We have the song writing team of Lennon and McCartney vs. Jagger and Richards. Well, let's think about it. [img]http://t0.gstatic.com/images?q=tbn:ANd9GcTysKA4Y-yoRcy4c0X5P9Yv8_tTxPvQ9zs-2wNYNOc4I4-I5W3xVw[/img] Over the years and years of music we have had greats like Rodgers and Hammerstein, Ray and John Livingston, Burt Bacharach and Hal David, Sammy Cahn, Hoagy Carmichael, Duke Ellington, George & Ira Gershwin, Jerome Kern, Johnny Mercer, Cole Porter. To name but just the cream of the crop for God's sake. [img]http://t2.gstatic.com/images?q=tbn:ANd9GcQNajxNJ31F8LkQ2VVochoWjXnHRbz1XSQkC5OFHzl3CoArB_ke[/img] The art has overtaken the artist So let's stop all the bullshit. In the wide and very long history of music songwriting, Lennon-McCartney and Jagger-Richards is probably very low hanging fruit. Get a grip on reality, the current age is pretty defoliated. [img]http://4.bp.blogspot.com/-u5RNoTj1JzM/T6TN_bdAzfI/AAAAAAAAAHA/A4ajRlrhcW8/s1600/Beatles+vs.+Stones+(British+Pop+Hits+Go+Groovy)+-+V.A.+(2010).jpg[/img] Well then, that is my take on the subject. Argue as you will, the Beatles vs the Stones is really no contest in the context of song writing. But the Stones are incredibly talented in writing new songs to this very day. That's really Incredible. [img]http://t1.gstatic.com/images?q=tbn:ANd9GcSC_Cpk9YCrR6ESsEh6DrzDVykM7l0FIQu8YQaL-l3z8uYCAb-O[/img] My hat is off to the Stones for staying healthy and not arguing and especially not meeting Oko Lennon or anyone like her. Don't you agree? SEE the entire performance here in one video: http://www.youtube.com/watch?v=OoF9zVbnJEQ Oddly, the quality of the video is not near as good as the 1981 copy. [img]http://www.rockrattlenroll.com/images/product/memorabilia/rollingstones-flag-1.jpg[/img] more review to come...... [img]http://moon.ap.teacup.com/kusagakubow/img/1339898948.jpg[/img]
monsieur rick
Rolling Stones - Voodoo Lounge Quotes
There are no approved quotes yet for this movie.
Discussion Forum
Discuss Rolling Stones - Voodoo Lounge on our Movie forum!