Romance Sentimentale (Sentimental Romance)
(1930)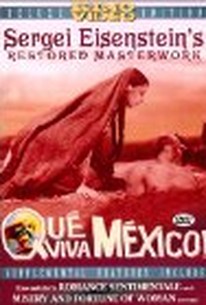 AUDIENCE SCORE
Critic Consensus: No consensus yet.
Romance Sentimentale (Sentimental Romance) Videos
Romance Sentimentale (Sentimental Romance) Photos
Movie Info
Some accounts claim that Eisenstein only attached his name to this sound short simply because he needed the money. It is, however, closer to the truth to say that this was a collaboration, although the exact extent of the collaboration between him and Grigori Alexandrov remains undetermined. The film itself is a short, experimental, slightly poetic montage of city and abstract images. Eisenstein's contribution seems to have been the soundtrack which demonstrates his theory of "contrapuntal use of sounds" or the attempt to find a common denominator between sound and image. The sound for Romance Sentimentale is drawn directly on the film's optical track and is the first instance of the use of this technique. This was not intended as a materialist film statement; it was rather an experiment towards an integrated film language. While the film's images are cursory, it retains historical importance as an experimental film predecessor and as the first sound film made by Soviets, even if not in the Soviet Union. ~ Brian Whitener, Rovi
Rating:
NR
Genre:
, , ,
Directed By:
In Theaters:
Runtime:
Studio:
Kino on Video
Critic Reviews for Romance Sentimentale (Sentimental Romance)
There are no critic reviews yet for Romance Sentimentale (Sentimental Romance). Keep checking Rotten Tomatoes for updates!
Audience Reviews for Romance Sentimentale (Sentimental Romance)
i realized that i haven't seen enough eisenstein and watched this baby on youtube. it's eisenstein's first sound film and it is a 1930 collaboration with grigori aleksandrov. nobody really knows the true collaborative efforts of either man involved, although both are given writing and directing credit. the result is a really nice experimental piece that collages images of nature and a woman singing and playing the piano. it seems like the woman is trying to understand her place within nature (as so many of these films touch on; hey, it's important!), and this is apparent because she plays a black piano in her house sadly and at the end plays a white piano in the sunlight, outside, joyously. the sound editing i found to be stunning; the most memorable parts in the film are perfectly enhanced by sound. there are also some gorgeous shots, most notably in the first third, where shots of thin lining trees across a lake are showcased.
brent gaines
A 20 minute master class in Eisenstein's montage theory, "Romance Sentimentale" uses nothing but nature photography to invoke the inner turmoil of its nameless, piano-playing heroine. Of course, there's also a ton of experimentation going on: time-lapse shots, superimpositions, negative images and even some crude negative-scratch special effects. As our fetching pianist plays her lament, the editing is constantly interjecting these unusual images to suggest more going on beneath the surface. A dark and stormy night is contrasted by a sun-soaked, warm and happy finale, but what are we summing up exactly? Her entire love life? A new dawn of fertility, endless rainbows and the pattering of little feet? The simple acceptance of a breakup? Perhaps nothing at all? A wealth of feelings are invoked by this stylistic experiment, which amounts to little more than a 20 minute music video. This may be overwhelmingly "artsy" for some; for aficionados of film history/theory this is a goldmine. "Romance" is currently in the public domain so it's not too hard to track down.
Kevin McCormick
Romance Sentimentale (Sentimental Romance) Quotes
There are no approved quotes yet for this movie.