Romeo Must Die
(2000)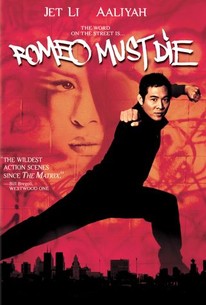 TOMATOMETER
AUDIENCE SCORE
Critic Consensus: In his second Hollywood movie, Jet Li impresses. Unfortunately, when he's not on screen, the movie slows to a crawl. Though there's some spark between Jet and Aaliyah, there isn't any threat of a fire. And as impressive as the action sequences are, some critics feel they are over-edited.
Movie Info
William Shakespeare's streak as the hottest storyteller in Hollywood continues with this modern-dress variation on Romeo and Juliet. In this loose adaptation, Hang Sing (Jet Li) is a former police officer from Hong Kong who comes to the United States following the death of his brother, the leader of an Asian crime ring. Hang Sing discovers that his brother had become involved in a turf battle with an African-American gang, led by Isaak (Delroy Lindo). But his blood lust begins to subside when he falls in love with Isaak's daughter Trish (Aaliyah) and finds himself torn between his affection for her and his desire for justice against the men who killed his brother. Romeo Must Die was the directorial debut of noted cinematographer Andrzej Bartkowiak; the supporting cast includes Russell Wong and Isaiah Washington. ~ Mark Deming, Rovi
People Who Like this movie also like
News & Interviews for Romeo Must Die
Critic Reviews for Romeo Must Die
Audience Reviews for Romeo Must Die
Romeo Must Die is a mess of a martial arts film. This is not a film that will appeal to fans of the genre. The story didn't appeal to me whatsoever, and I felt it was boring, uninspired and not interesting. The cast here are terrible, I've never been a fan of Jet Li, and this film just makes me hate him more. Starring alongside him are other "actors" who can't actually act, but try to any way. This is a terrible cast for a terrible film, and it fits perfectly. Unlike the old school Bruce Lee which had elaborate plots and great acting, and kick ass martial arts; Romeo Must Die fails at everything except delivering "ass kicking" martial arts. Jet Li sucks, and he's no Bruce Lee. Romeo Must Die lacks any real drama, conflict or effective action to keep this film afloat. Despite the fact that this is an action film, I was pretty bored with it because the film was poorly done. I despised the cast, and I felt that they all destroyed the film. Romeo Must Die is a sloppy film that has poorly executed action scenes. Romeo Must Die is not a good Martial Arts film. I'm going to stick with Bruce Lee as the undisputed master of martial arts and of the genre itself. At least his films involved elaborate, well developed plots and had awesome action. But this, this has some action, but marred with poor acting, and poor plot, which in the end, makes this film fail disastrously. I don't like Jet Li, I find him irritating and a bad actor, but at times he does cool stuff on-screen. However, I feel his martial arts aren't up to par with Bruce Lee, and no that is not why this film sucks. The film because the acting is awful, the plot is bad and the direction of the overall film is terrible. It's no wonder that this film has made it into the Bargain bin for 5$.
½
An ultra-cool and stylish action-thriller with great visuals and stunning fight sequences. Jet Li packs plenty of punch and Aaliyah packs plenty of heart.
Romeo Must Die Quotes
There are no approved quotes yet for this movie.