Ron White - They Call Me Tater Salad
(2004)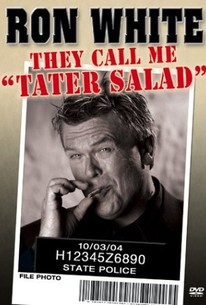 AUDIENCE SCORE
Critic Consensus: No consensus yet.
Movie Info
The Texas comic and co-star of Blue Collar Comedy Tour: The Movie ponders the absurdity of fashionable eyewear ("Why do sunglasses cost more than a 25-inch TV?") and much else in the live performance Ron White: They Call Me Tater Salad. Looking as if he just woke up from a nap (or is on his third beer), White contemplates eros with the inarguable "You see one woman nekkid... you want to see them all nekkid." A veteran of hurricane country, he contemplates those idiots who insist they're strong enough to sit out big storms: "If you're hit by a Volvo, it doesn't matter how many sit-ups you did that morning." On wedding anniversaries: "Diamonds--that'll shut her up." Some of White's material is unnecessarily crude for such a clever guy, but the best stuff, including a funny monologue about his half-mad, deer-hunting cousin, makes up for it. --Tom Keogh
Critic Reviews for Ron White - They Call Me Tater Salad
There are no critic reviews yet for Ron White - They Call Me Tater Salad. Keep checking Rotten Tomatoes for updates!
Audience Reviews for Ron White - They Call Me Tater Salad
½
A BEAUTIFUL MIND (4 STARS)-Russell Crowe stars as a man with a beautiful mind. Because really its inner beautey (what ever that is) that counts RON WHITE - THEY CALL ME TATER SALAD (4.5 STARS)-My favorate Blue Collar guy Ron White sheres his wisdom like "If you see one women naked, you... wan't to the rest of them naked." & "The bouncer said "Gay people around her where hats like that." then I said "Oh the only way down south to tell if someones gay, is if they had there hair cut like ... yours."" A KNIGHT'S TALE (2 STARS)-Set in the Mideivil period with a soundtrack featuring We Will Rock You. Stomp Stomp Clap, Stomp Stomp Clap. Hey its not as stupid as William Shakespear's Romeo & Juliet. SPACE COWBOYS (4 STARS)-Staring Clint Eastwood (CSW), Tommy Lee Jones, Donald Sutherland, James Garner, and the corpse of John Wayne. Damn that was tasteless. WAYNE'S WORLD 2 (4 STARS)-Staring Mike Myers & Dana Carvey, reprising there SNL/Wayne's World charactors Wayne & Garth. It also stars Christopher Walken, the late great Chris Farley, Aerosmith (I saw them in concert), Jim Morrison, & Larry Sellers unforgetable performance as The Weird Naked Indian. Oh he wasn't nominated for an Oscar I'll never know.
Clay Baker
FUN STAND UP COMEDY ROUTINE, NOT QUITE UP THERE WITH THE BLUE COLLAR COMEDY TOUR, BUT IT'S MOSTLY GOOD.
James Higgins
½
I love this guy. He's so funny. He is one of them fellows on the blue collar comedy tour. He's the guy who's always smoking and drinking during his bit. I love him. he's great.
Rachel Monkey
Ron White - They Call Me Tater Salad Quotes
There are no approved quotes yet for this movie.
Discussion Forum
Discuss Ron White - They Call Me Tater Salad on our Movie forum!