Ronin
(1998)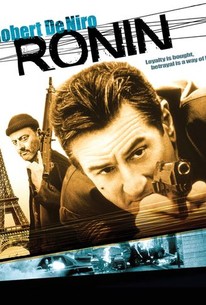 TOMATOMETER
AUDIENCE SCORE
Critic Consensus: Ronin earns comparisons to The French Connection with strong action, dynamic road chase scenes, and solid performances.
Movie Info
When an international team of former intelligence agents and Cold War warriors meet in a warehouse, their adventure of love, friendship and betrayal has just begun. Like the honored masterless Samurai of hundreds of years ago, these modern day Ronin are embarking on their final covert mission -- to recover a mysterious briefcase for an unknown employer and to stay alive. The action-adventure is directed by legendary helmer John Frankenheimer.
People Who Like this movie also like
Audience Reviews for Ronin
I had been meaning to see this one for a few years, and am happy to say that I finally got this one crossed off my list. Co-written by David Mamet using a pseudonym and some obscure person named J.D. Zeik, this is basically the last great film from acclaimed director John Frankenheimer. What we have here is a slick international caper set in post Cold War Europe (mainly France) about a group of mercenaries from various intelligence and spec. ops. backgrounds who are called together to steal a mysterious briefcase with unknown (and unrevealed contents) that is wanted by both Irish terrorists and Russian gangsters. As for the basic plot, that's pretty much it. A bunch of hired guns come together to do a job, but, like all great thrillers, there's plenty of twists, turns, and intrigue. Okay, so the plot isn't original, but that's not where the film shines. It excels in delivering lots of suspense, tension, atmosphere, some good shootouts, and some excellent car chases. We get roughly four or so prolonged chases, and they are quite awesome, especially since they're done practically. Frankenheimer could have used visual effects, but opted for realism, and the results are great. Robert De Niro leads an all star cast, and he's awesome as the guy who basically becomes the leader of this little mission. He brings a great deal of experience and world weariness, and this is probably his last major role as a bad ass, though he did have a few great moments in Killer Elite. He's joined by the always cool Jean Reno, a scenery chewing Sean Bean, Stellan Skarsgard in a fun weaselly turn, and a menacing Jonathan Pryce. It's not a total sausage fest though. Natascha McElhone makes for a decent femme fatale, and even figure skater Katarina Witt shows up for a minor role. The film was almost 100% shot on location throughout France, and it looks great. We get awesome set pieces through a variety of locales, and the execution is marvelous. The action is tremendous, and there's plenty of it. The film does have some quieter moments, and I loved the fairly intelligent take on the caper elements, with how their mission is planned, etc. I wouldn't go so far as to call this a thinking man's action thriller, but it is somewhat smart and doesn't totally relying on playing to the lowest common denominator. I dug the crap out of this film, and I'd maybe rate it slightly higher, but, I do think it is somewhat uneven as far as the pacing (at times), and the basic story, as I previously mentioned, is kinda weak. Overall though, this is a terrific movie and I highly recommend you check it out.
Chris Weber
Super Reviewer
A thrilling suspense/action film with some unexpected turns. A great cast.
Christian C
Super Reviewer
A fun B-movie with one of the best car scene chases ever. Plot is lacking... but Robert De Niro is in it... He lifts this movie up. I loved the overall feel of this movie
Albert Kim
Super Reviewer
Ronin Quotes
| | |
| --- | --- |
| Spence: | You worried about saving your own skin? |
| Sam: | Yeah, I am. It covers my body. |
| | |
| --- | --- |
| Gregor: | It would be nice to do something. |
| Sam: | We are doing something. We're sitting here, waiting. |
| | |
| --- | --- |
| Sam: | What's the color of the boathouse at Hereford? |
| | |
| --- | --- |
| Sam: | Tell me about an ambush. I ambushed you with a cup of coffee! |