Room 205 (Kollegiet)
(2007)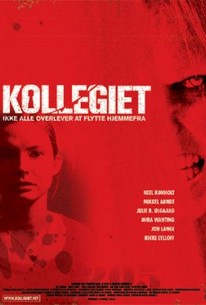 AUDIENCE SCORE
Critic Consensus: No consensus yet.
Room 205 (Kollegiet) Videos
Room 205 (Kollegiet) Photos
Movie Info
A young girl from the provinces inadvertently unleashes a ghost that takes advantage of its newfound freedom by targeting the bullies in her dormitory for a series of gruesome supernatural attacks. Katrine was looking to start a new life when she decided to move to Copenhagen and enroll in the university. But naïve Katrine was clueless to the social hierarchy on campus. When Katrine starts dating Sanne's ex-boyfriend, jealousy gives way to anger as Sanne convinces her friends to drive the newly arrived student out of the dorms for good. Little did the girls realize that the same urban legend they used to try and scare Katrine would eventually come back to haunt them in the end. Now Katrine has accidentally set the ghost free, and the students in the dorm are running for their lives. Katrine knows exactly what will happen should she fail to stop the ghost, and when suspicions fall on her, she seeks out a former resident named Rolf who knows a secret or two about this murderous specter. But Katrine and Rolf will have to act fast if they want to save the students who have yet to stare death in the eyes, because this ghost has a taste for killing and the slaughter has only just begun ~ Jason Buchanan, Rovi
Rating:
R
Genre:
, ,
Directed By:
In Theaters:
On DVD:
Runtime:
Studio:
LionsGate Entertainment
Critic Reviews for Room 205 (Kollegiet)
There are no critic reviews yet for Room 205 (Kollegiet). Keep checking Rotten Tomatoes for updates!
Audience Reviews for Room 205 (Kollegiet)
½
It's an okay, middle of the road ghost story, nothing that just blew me away, but still a watchable flick to kill an afternoon with. Rental?
Bill Bryant
Kollegiet (Martin Barnewitz, 2007) Kollegiet, on the other hand (q.v. White review above), would seem to impart to us the lesson that the Occident should not attempt to make Asian horror movies at all. Not that I was really expecting much better from Barnewitz, who was tabbed to direct the (awful) Messengers sequel a couple of years ago, but Kollegiet, released in English-speaking countries under the title Room 205, is so standard that it almost seems as if one of the hackier Asian horror directors (Takashi Shimizu?) wrote a draft of a How to Make an Asian Horror Film for Dummies book, Barnewitz got his hands on a copy before anyone bothered to revise it, and he followed it to the letter. The problem being, of course, that since there's nothing new here, the movie comes off as a pale (pardon the pun) remake of some other generic Asian horror movie you saw a few years ago, but can't quite remember. The movie does have a plot, if a light one: Katrine (After the Wedding's Neel Rønholt), a provincial young woman, goes to college in Copenhagen, looking for something more insteresting than her usual small-town existince. What she finds, unfortunately, is a rather cliquish bunch of kids in her dorm who seem to be led by Sanne (Julie R. Ã~lgaard, recently of Headhunters). Of course, things get worse when Katrine finds herself attracted to Rolf (Yours Forever's Mikkel Arendt), a former member of the clique (and romantic entanglement for Sanne, of course) who is now outcast. Needless to say, there's a Dark Secret(TM) to be had, and a Vengeful Long-Haired Spirit(TM) who is loosed on the crew as a result of an accident, and... do I need to tell you more? Because you've seen it. Dozens of times, probably, if you're a fan of Asian horror at all. But where even mediocre Asian horror films at least get the basic stuff rightâ"continuity, coherence, a decent amount of atmosphereâ"Kollegiet expects of its viewers that its existence will be enough. Sadly, it is not. **
Robert Beveridge
Not bad.. Not great.. didn't feel like I lost 2 hours of my life, but more or less treaded water and didn't walk away with anything. My main suggestion is watch the subtitled version, and if you do, you'll probably find it to be a halfway decent run of the mill horror movie. Assuming originality isn't a key concern of yours. This movie had a Dark Water + Toolbox Murders x The Ring vibe too it.. maybe with a bit of Mirrors and They mixed in.. it's completely unoriginal in plot and characters.. but it doesn't embarrass itself so if you're in a pinch for a horror movie and don't have high expectations, this could fill. Again, I can't stress enough how important it is not to stream this movie with English dubbing, and to get the DVD where you can watch it in the original language with subtitles. The overdubbing was horrible.. one of the main characters is given a radio station voice for some reason that seems completely out of place.. I found myself looking at anything but the people talking, otherwise I would have never made it through. I'm not taking off for that tho given it is in fact a foreign film, and I could have waited for the DVD.
Nick Grimm
Super Reviewer
Discussion Forum
Discuss Room 205 (Kollegiet) on our Movie forum!
News & Features