Room 314
(2006)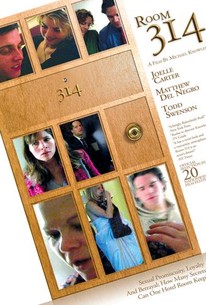 Movie Info
Five short stories play out in one room at a New York City hotel in this episodic independent comedy-drama. Stacey (Joelle Carter) wakes up one morning with no clear memory of what happened the night before, but the fact she's sharing a bed with Nick (Matthew Del Negro), a strapping professional football player she barely knows, offers a significant clue. Gretchen (Sarah Bennett) discovers her husband has rented a hotel room without telling her, and she comes to the city to confront Harry (Michael Laurence) about what he's doing; while she thinks he's seeing another woman, the truth is something far more disturbing. Jack (Michael Knowles) is a salesman in town for a convention along with one of his co-workers, Kathy (Robyn Myhr), and he attempts to persuade her to trade their professional relationship for something more intimate. Matt (Todd Swenson) is a guy from out of town who thinks he's in luck when he hooks up with Tracey (Monique Vukovic), but as the evening wears on he realizes he's gotten more than he bargained for. And David (Michael Mosley) has come to the city with his girlfriend Caly (Jennifer Marlowe) to attend his brother's wedding, and the circumstances have brought his insecurities about their relationship to the surface. Room 314 was written and directed by first-time filmmaker Michael Knowles (who also plays Jack) and was adapted from his play.
Rating:
NR
Genre:
, ,
Directed By:
Written By:
In Theaters:
On DVD:
Runtime:
Studio:
Critic Reviews for Room 314
Audience Reviews for Room 314
The acting is good here, but really, it's more of a character study than a movie. Nothing ties together, there's really no resolution, and the stories are unrelated to each other with the exception of the fact that they take place in the same hotel room. If you just want to see some good acting, this is fine, but if you need more than that, skip this one.
Amanda Hendsbee
A little slow, a little quiet, but I like the idea of this movie. A couple of the stories in the room are sad or disturbing, but a couple are just adorable. I like that the happier stories are at the beginning and the ending of the movie.
Heather Metzger
I saw that no one from the RT Community or Top Critics had written a review for this film, so I decided to watch it and write one myself to sort of "take one for the team" or something. I see now why no one else had... There is literally no point whatsoever in actually watch this film unless you simply want to see the actors. Nothing occurs visually that requires or assists you by viewing it. In fact, after the first three room scenes finally passed, I played BubbleBreaker on my PDA and listened for nearly the rest of the movie with the occasional glance at the screen just in case. That was fruitless. This movie is pointless. It's not a "day in the life" kind of movie, it's more of a "few minutes out of a few couple's lives". The dialogue is tedious and seems forced. The conversations are of the kind you'd only ever experience if you were to happen to overhear them and because of that be glad you nor anyone that you know is like that. There is no time given to any character to give them depth nor to instill any sense of sympathy, interest, or concern for what happens to them. I once had a root canal that lasted about as long as this film and, really, had a better time with that because I at least wasn't thoroughly bored. Grueling, tedious, boring, pointless. Those are the kindest words I can summon to describe the experience that is Room 314. And make no mistake, I'm all for brief glimpses into other people's lives/day-in-the-life a la Young People F**ing or Dazed and Confused. Or, for "hotel room story" films, there is always 4 Rooms. Not this. Don't bother.
Just Broke
Room 314 Quotes
There are no approved quotes yet for this movie.
Discussion Forum
Discuss Room 314 on our Movie forum!