Room In Rome (habitacion En Roma)
(2010)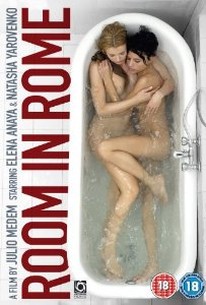 AUDIENCE SCORE
Critic Consensus: No consensus yet.
Room In Rome (habitacion En Roma) Photos
Movie Info
In this steamy comedy-drama, two female tourists (Elena Anaya, Natasha Yarovenko) in Rome have a passionate love affair and tell each other stories about their traumatic lives, but it's unclear if either woman is revealing the truth. Directed by Julio Medem.
Critic Reviews for Room In Rome (habitacion En Roma)
Audience Reviews for Room In Rome (habitacion En Roma)
½
Very disappointing, even if the disappointment was expected. Problematic strangers that briefly meet, easy sex took by could be-why not 'love', nice soundtrack, a few beautiful shots. With te exception of The Lovers of the Arctic Circle, Medem's movies tend to be nothing much but a supposed artisitc, intellectual porn.
Rubia Carolina
Super Reviewer
Okay, I realize that not everyone enjoys a dialog driven film, but when the dialog is coming from two hot, entwined, butt-naked women does it really matter? Seriously?
Randy Tippy
Super Reviewer
"One night of passion that will change their lives" A hotel room in the center of Rome serves as the setting for two young and recently acquainted women to have a physical adventure that touches their very souls.
REVIEW
Julio Medem has created a film of rare beauty, intoxicating romanticism and scorching eroticism. The girls spend almost the entire film nude, the camera slowly panning over their warmly lit skin and lingering in loving close-up on the passion-lit faces. To a soundtrack of lush pop music and opera and amidst the classical paintings that cover the walls and comment on the action, the girls engage in games of fabricated identity, only gradually pealing off the layers of fantasy to reveal the often tragic secrets that have made them who they are. It is perhaps ironic that a film about a relationship between two women should be one that drew me into its story more deeply than any romantic film I can remember, and yet I could identify with both and fell in love with both. What makes the film so powerful is not the sex, erotic as that is, but the by turns playful and compassionate interactions between the women. This is an open spontaneous encounter between two people which necessarily changes them, and it is one which captures the rich joy of life. The film has the classical beauty of a film by Bertolucci or Visconti, but unlike their best films, which tend to look at the darker side of life, "Room in Rome" is ultimately, in spite of some powerful moments of angst, a feel-good movie.
Lorenzo von Matterhorn
Super Reviewer
Room In Rome (habitacion En Roma) Quotes
There are no approved quotes yet for this movie.